Like any fan of the classic film Cats & Dogs, I have always yearned to hear my dog's thoughts and see the world through their eyes. And while my dog may not be as chatty as those animals voiced by Tobey Maguire and Alec Baldwin, I know that Milo, the Shihtzu-Cavalier mix, loves Denton. The music (Milo loves smooth jazz), the food (he may or may not enjoy the occasional fallen french fry) and the dog-friendliness of this vibrant community are all up his alley. But enough from me -- I want you to hear from the source himself. 
Here is Milo on where he loves to go when he is Dentoning: 
Pet-Friendly Hotels
I've seen my fair share of hostile hostels, so I know when a place is dog-friendly or not. Luckily, my beloved Denton has you covered with a wide array of pet-friendly hotels. Everything from the Embassy Suites to Homewood Suites and lots of homey hotels in between are available for pups and humans alike. The latter is a personal fave, and gets my coveted and rare "Two Paws Up" rating. 
Dog-Friendly Patios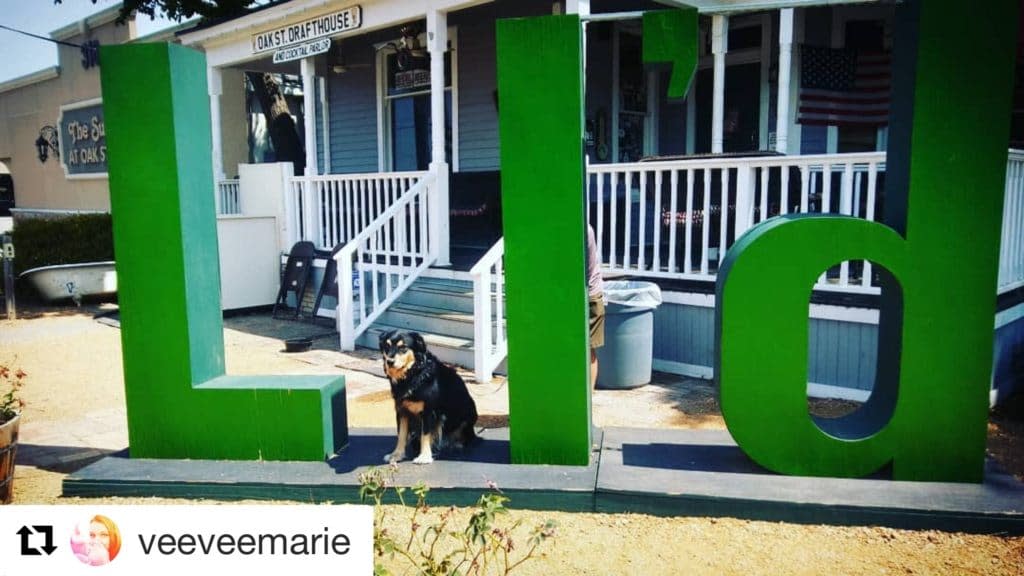 @veeveemarie's pooch Eugene makes the cutest i in the Lil'd sign outside Oak St Drafthouse.
I don't often curse, but it was heckin' hot this summer. As temps lower, I'm looking for places to chill on the patio and watch the sun set in that picturesque Texas sky. Plus, while I sip on some water, my human can sip on a cool beverage at East Side, West Oak, Oak Street, Jupiter House or Denton County Brewing Company.
Plus, if you're downtown and in need of a drink, drop by the Discover Denton Welcome Center, where the staff is ready with a bowl of cool water to cool you the heck down. 
Listen up, humans: It's important to treat yo' self (#selfcare and all that), but it's also important to treat yo' pup. To do that, look no further than Susie's Snack Shop, which has you covered with all the treats and dog decor any pup could desire. Did someone say 80s-style fashion montage?! Because I can rock an afro while listening to my favorite tunes. Did my human mention that I love smooth jazz? Because I LOVE smooth jazz.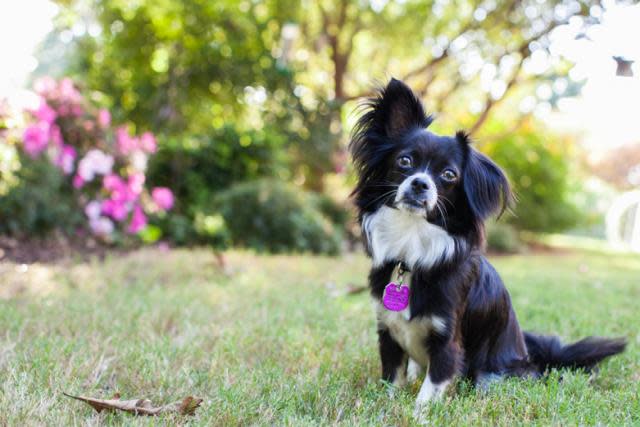 The annual Dog Days of Denton is nearing, which means ample activities for you and your human (but mostly for me to hit the town and strut your stuff). For those brave enough to challenge me, have your hooman sign them up for the Spokesdog Competition -- an opportunity to have your peppy pup represent all of Denton for a year. But beware: I will be stiff competition. 
Dog Parks 
If you and your human are fans of the great outdoors, take a jaunt over to Wiggly Fields for a day of fall fun. There is also a new dog park going in by North Lakes Park, which is slated to be open by the end of the year. My human and I will race you there -- but we'll probably lose, because he has an awful habit of eating my french fries. Silly humans, am I right? At least he has me to take care of him; Dog knows he needs it.