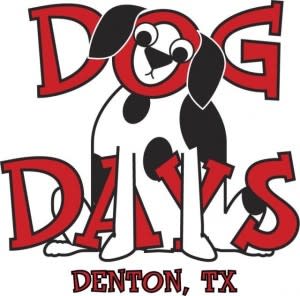 Celebrate the tradition and fun at the 19th Annual Dog Days of Denton Celebration on Friday, June 1st and Saturday, June 2nd.   Relax in the evening shade of north Quakertown Park on Friday night as the festival brings back "yappy" hour from 5 p.m. to 8:30 p.m., and start the fun again on Saturday from 8:30 a.m. to 2 p.m..
"We will continue our Friday night hours, and we saw an increase in attendance on Friday night last year due to the cooler evening temperatures," said Christine Gossett, co-director for the Dog Days of Denton Celebration.  "We also plan to continue expanding our cool zone and rest areas for all to enjoy."
In addition to festival fun, Dog Days of Denton features educational programs with a spotlight this year on the Lions' Club Leader Dog Program – a service dog program for the seeing-impaired.  Tammy Freeman with her leader dog, an English Black Lab named Vince, will share her story about how she benefitted from the Lions' Club program and the importance of this special bond between canines and humans.  Sandy Griffin, a Leader Dog trainer, will also talk about what is involved in preparing dogs for service.  A portion of the proceeds from the hot dog and water sales at this year's event will go to the Lions' Club Leader Dog Program.
The same traditional fun will happen on both Friday night and Saturday, with some activities and contests featured on Friday orSaturday only. The "Heinz 57" Contest is on Friday night, with several fun categories for any pooch of any mix or breed to compete in several categories ranging from curliest tail to longest tongue.  Attendees can also learn about various breeds and pet care tips on Friday and Saturday, as well as see canine training and sport demonstrations.  Returning again this year are the Dallas Dog 'n Disc, TC Cappel Dancing with the Dogs (Freestyle) and Texas Heat Flyball with demonstrations on Friday and Saturday. The "Glamfur" photos, creative arts/crafts items for both canines and their owners, games for kids and canines, pet care information, pet adoptions and rescues, festival foods and more will also be featured Friday night & Saturday.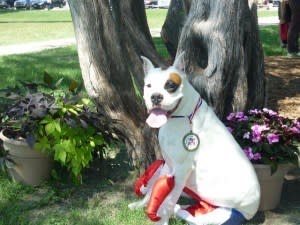 Saturday's festivities start off with a Canine Couture Fashion Parade, more demonstrations, presentations, and the traditional canine contests including Pet Tricks, Dog Singing, and the popular Spokesdog Pageant between the hours of 8:30 a.m. and 2 p.m..  For 2012 Spokesdog Pageant entry guidelines and a complete schedule for the weekend, including contests, entertainment, demonstrations and more, please visit the website www.dogdaysdenton.com.
The Dog Days of Denton Celebration will be held in the north end of Quakertown Park at 321 E. McKinney Street in downtown Denton.  General admission to the event is FREE.  Friendly, non-aggressive dogs are welcome. The Dog Days of Denton Celebration requires that ALLdogs be kept on a leash and controlled by their owners. Owners are responsible for their dogs' behavior.  Dogs need to have current vaccinations. For more information on the event, please visitwww.dogdaysdenton.com. Dog Days of Denton – where fun and responsible pet ownership and care come together.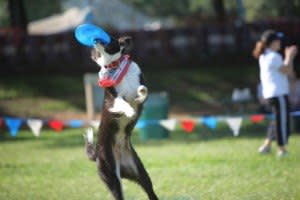 Dog Days is presented by Denton Record-Chronicle, City of Denton, Denton County Animal ER, Invisible Fence of Greater Dallas, and Huffines, with the support of Muenster Milling and Southridge Animal Hospital. Dog Days of Denton is a not for profit 501 (c) (3).  
For pet-friendly overnight accommodations, please check the www.dogdaysdenton.com website or visit www.discoverdenton.com.