Relaxing in the grassy shade, eyes closed, white and golden-blonde hair dancing in the breeze, Ellie is tired.  She works day-in and day-out without complaint.  Lifting her head to check perimeters, because she's never really off work, she considers how long it's been since she went somewhere just for fun.  "Too long," she moans.
Ellie is my collie.  I know what she thinks because she is the most vocal dog our home has known.  When she talks, it's conversational.  We've learned to understand her and her us.  She's not exaggerating; she does work all the time.  She guards our home against walkers on the sidewalk.  She warns of perils like mailmen and trash collectors.  According to her, the greatest danger facing us are those cats lounging on our front porch and the squirrels dashing along the top of our fence.  It is wearying.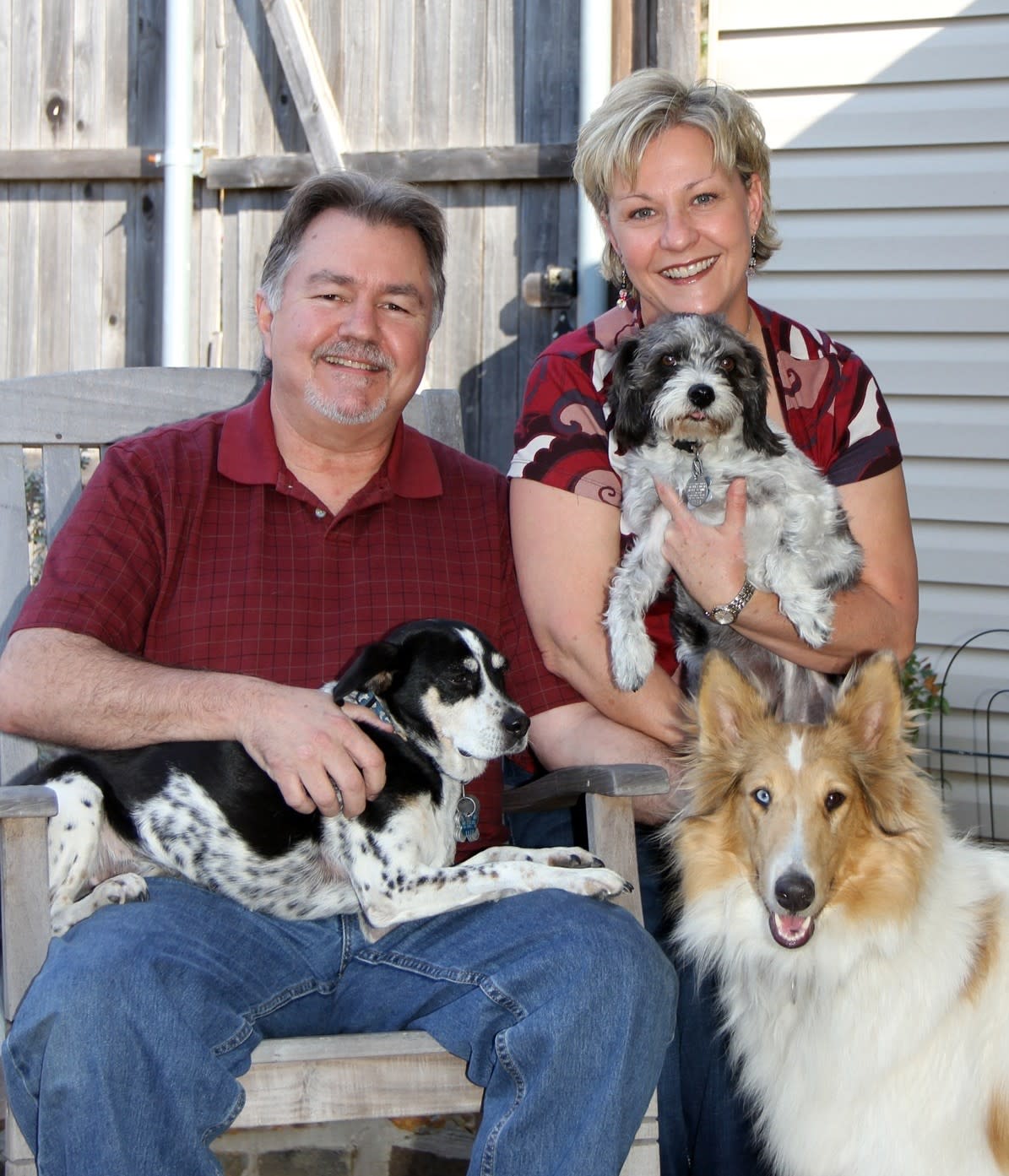 This scene was then…days ago.  Today, Ellie is excited.  Tim and I fitted her with her own Mean Green Game Day t-shirt.  "Surely if it involves clothes," she thinks, "I'm hitting the town!"
She's right.  This coming weekend is Dog Days of Denton, from 9 a.m. to 3 p.m. at the North Texas Fairgrounds.  It's an annual thing for us.  We're dog people with three dogs, one a senior who doesn't get around so well anymore.  Another is more anti-social than not.  And Ellie who loves everyone and is eager to go anywhere.  This is her special weekend with us, even more special this year because Dog Days is happening on a Mean Green Game Day weekend.
Ellie loves Dog Days of Denton.  As vocal a dog as she is, she suffers stage fright.  She won't sing or prance about in costume, though she adores her new Mean Green outfit.  What she does love is the agility course, sitting for her glamfur photo shoot (this year wearing her new Mean Green Game Day garb) and listening to live music (she knows Tim and I do that, so she's really into it when we take her out).  Her most favorite thing about Dog Days of Denton, though, is the other dogs and people.
Dog Days is all about dogs.  Canines bring their people versus the other way around.  Vendors cater to them, dogs are friendly and eager to make friends, and petting is everywhere.  Ellie loves strangers oohing and aahhing about her beauty, so much so that she reminds us about it for weeks to come, especially when she's in trouble.
This year, the fact that Ellie's donned in Mean Green garb adds a new layer to the outing.  Some lucky dog is going to win tickets to the 6 p.m. Mean Green game against Middle Tennessee just for showing off their garb.  While Ellie has no interest in trying to sneak into Apogee for the real deal, napping while listening to the game she knows her people are attending because she won tickets for them?  That's a perfect end to a perfect day.
The current Dog Days of Denton spokesdog, Lager. Photo credit: Tammi Paul Photography
What Ellie doesn't realize is that all dogs have the chance to win those coveted tickets, great seats in the season-ticket-holder section of Apogee.   People just snap a picture of their pup donned in Mean Green attire and post to Discover Denton's Facebook contest or to Instagram along with the hashtag #meangreengameday.  Just like that, they're entered in the drawing to win the tickets.  The winner's dog is hero of the day!
Speaking of Mean Green Game Day, we have news!  Starting this game, instead of just two, we will have four shuttle busses running continuously between downtown and Apogee Stadium starting two hours before the game until an hour after the game ends.  That means that every 15 minutes, a shuttle will be at any given stop along the route to pick up or drop off.
So far this season, more than 800 people have enjoyed the Mean Green Game Day shuttles.  Thanks to Jagoe-Public, the people that build our streets, pick-up and drop-off times will increase for the rest of the season.  Jagoe-Public's goal is to create a complete Game Day experience – and that includes downtown and Apogee.  More busses equals less wait time at stops and plenty of shuttle room for everyone.
Signage around downtown shows wh­­ere shuttles make their stops.  Game Day pocket guides plus free pom-poms are available the Discover Denton Welcome Center all game-day long.  Oh, and special for Dog Days weekend, canines are encouraged to visit the Welcome Center for a local-made treat and long draught of water.
Topping it all off, Family Weekend for both UNT and TWU promise visitors everywhere.  Let's show off, Denton!  Don your colors, do Game Day, and for goodness sake, attend the game and support our Mean Green!