Docs surprise.  I love that.  What I expect the film may convey is based on my expectation.  I see the title and read a bit about the topic and expect the film will unfold in a certain way.  Pretty natural for most of us, I imagine.  But that is rarely how it happens.  The doc unfolds according to the filmmaker's own experience.  We see the film through his lens, his feelings about the topic, and his own interpretation about what aspects are important.  You know the old adage "perception is reality?"  You can line up 10 people and ask them to view the exact same scene and each one will perceive unique nuances the other nine didn't see at all.  This is the documentary magic of Thin Line Fest.
Case in point.  I saw two films last night that demonstrate this perfectly.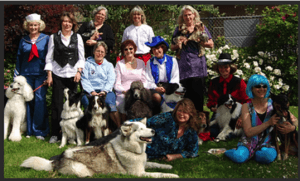 Paws2Dance Club, Vancouver, Canada
"Unleashed: A Dog Dancing Story" was obviously going to be about dog dancing.   I've never even heard of dog dancing and, being a dog-lover myself, was compelled to learn a little something new about my canine's peers.  I met the director Justin Turcotte and producer Ben Mallin at Thin Line's opening night.  They shared about their mutual appreciation for a 2000 flick called "Best in Show' that somewhat drove their intrigue in the dog dancing topic in the first place.  That movie about the obsessive world of show dogs and their owners was incredibly funny, so I went into the doc expecting a similar parody-like exploration of dog dancing.  What I took away from the film, however, was genuine admiration for the focused discipline and training invested by these owners in their dogs.  One of the dog owners from the film was in the house and I got to meet her, too.  Serious about dancing dog art, Annette's story of love between her and her sheltie, Odie, was truly beautiful.  Though there were funny moments, the film conveyed respect and awe rather than being an exposé on strange things people do with their pets.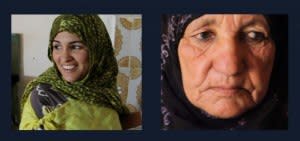 Najla and Agaila
"Cast in Sand: Najla and Agaila" was the second surprise.  This short by Rebecca Roberts-Wolfe was likely to be heavy and sad, or so I thought.  Instead, the story was an uplifting one about hope, perseverance, and overcoming in a part of the world about which I am pretty much ignorant.  My take-away?  My life is incredibly soft and easy and requires no braveness, relatively speaking.  Some women are heroines every day and, in the most mundane sort of way, make the world turn for those around them.  I am inspired.
Through Thin Line's visual storytellers, we experience.  We don't just "take in a film."  We walk in the shoes of people we do not know in situations we will likely never find ourselves.  And we are more complete because of it.