I've decided I really love documentaries.  This year, I've seen more docs during Thin Line Film Fest than during any other of its six years in Downtown Denton.
This week was Valentine's Day and Hubby (Tim) and I decided date night in Denton should definitely include Thin Line.  So we enjoyed a special dinner at Hannah's Off the Square and then moonlight as we strolled over to the Fine Arts Theatre where our doc pick of the night, Corporate FM, was screening.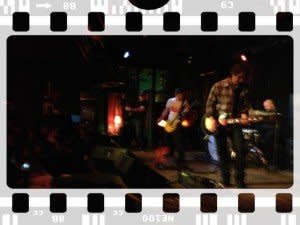 Trebuchet gave a special performance at Dan's Silverleaf during Thin Line Film Festival
Corporate FM ended up being great confirmation for one of our major goals at the Denton CVB for 2013.  That goal is partnering with DentonRadio.com to flesh out a vehicle for delivering local Denton music of every genre to the world.  We are using our Original Independent music scene to attract visitors and increase tourism to our city and our festivals.  Because Internet radio has no geographic limitations, it's available to anyone, anywhere.  Corporate FM killed local radio for the most part.  DentonRadio is all about Denton.  It is our local stuff completely – music, personalities, shows, and advertisers.  And it's being shared across the globe.  How cool is that?  And the timing is perfect as Corporate FM continues its downward spiral into vast unimportance.
Friday night, I doc-hopped on my own while  Tim's time was required elsewhere.  First I saw Drawing Dead at the Fine Arts Theatre, a film about online poker.  The film contrasted a guy who's life is in shambles because of gambling addiction and another fellow who's raking in $40 grand a month playing with the pros.  Who knew?  I'm not into poker and I'm too tight-fisted to have fun risking my hard-earned cash.  So, while I couldn't really relate to either character, the film was interesting and left me feeling pretty good about being pokerless.
Then I made a bee line around the corner for the Campus Theatre to see 4 Nights in December.   This was another doc about a home-grown Denton band Trebuchet.  The film took the audience into a recording session with the band, the whole session recorded over four nights in a loft apartment on the south side of the Denton Courthouse Square.  They had to record at night in the in-between hours to accommodate neighboring lofts and businesses. Trebuchet's music is very organic.  I hope the band members will take this is as the high compliment I mean for it to be when I say their music reminded me of the old days of Pink Floyd.  Remember them?  Similar musical qualities and wanderings and exploration.  Very cool.  And the cinematography was fantastic with views of our iconic courthouse and the twinkling Square visible through tall windows behind the band's setup.
Thin Line awarded the winning docs last night at the closing after-party.  Then today and tomorrow (Sunday and Monday) will present one more chance to see the best of the best before Thin Line Film Fest is done.  I'll see plenty of docs before the Thin Line Fall Series cranks up in September.  But, there's something about sharing the experience with several hundred doc-lovers from all over everywhere that I'm really going to miss.