Little d dashes across the green square, which is divided into numerous smaller squares, each a perfect digging spot harboring various levels of wealth. Little d, sporting his bright Mohawk, could unearth all the treasure in no time at all were it not for the squares' determined guard rooster, the menacing Cluck Gable whose sole aim is to prevent Little d's digging success.
This is not a fairy tale. Little d and Cluck Gable are the starring characters in a Denton-centric game that is an exciting part of the brand new Dig Little d phone app. Designed by the brilliant minds that comprise From the Future, an edgy digital app and game creation company headquartered in the basement of the historic First National Bank building on the Denton square, Dig Little d is the first app of its kind. While the game won't go live until Phase II, in early October, it is just one piece of a fantastic hand-held enhancement to the downtown Denton experience to be unveiled at a media event this Tuesday at the Black Box Theatre.
While Little d, the Mohawk dog, has been around as part of the Original Independent Denton brand since 2012, the idea for building a campaign around him was born from a group of downtown businesses with the common goal to maintain downtown's economic vitality through the Hickory Street construction project, now well underway. The campaign's concept is that amid dust, rugged road, workers and detours, we Dentonites will hold to the vision of a beautifully landscaped Hickory Street with wide, smooth sidewalks and benches. Within a year, the pain of development and upgrade will be but a memory, and we will enjoy the reality of that vision.
Dentonites and visitors are the drivers behind Denton's fantastic downtown entertainment district. Many business owners assumed risk one after the other to invest in what was once a near-deserted downtown. They turned the area into a vibrant attraction we enjoy everyday, reciprocally making their businesses thrive. As these businesses flourish, so do our entertainment options and so does Denton. It's the circle of life, and it must continue while we "Dig Little d" so it's all still intact, stronger and even better on the other side of improvement.
The app is an interactive guide to attractions, eateries, live music, events, nightlife venues and parking in the downtown area. The Denton CVB staff and budget have worked with From the Future throughout the app-building process, but many have participated in its content development including Downtown Denton Development, Denton Main Street Association, Keep Denton Beautiful, the Industrial Street Guild, and numerous businesses, especially Mellow Mushroom, Dan's Silverleaf, Beth Marie's Old Fashioned Ice Cream, and Pan Ector. But none have invested the time and effort given by From the Future.
"We've worked on nearly a 100 projects for clients throughout the world," says Mike Christian, From the Future partner and CEO. "We felt like it was time to do something for our hometown of Denton."
And their first Denton project is magnificent, far beyond the campaign's budget restrictions, and a generous gift to our city. The whole From the Future team will participate in the app's release event.
Imagine stepping off the A-train downtown, visiting Denton for the first time, or learning to traverse your home as a new student or new resident. Download Dig Little d and that little icon among your apps opens a real-time guide to downtown. Businesses even have the capability to send immediate specials and promote pop-up opportunities moment-by-moment. It's the gotta-have-it-now app for everyone in Denton.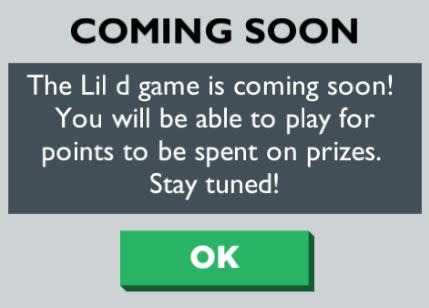 Once the game portion of the app is complete, Little d and Cluck Gable will squabble over buried treasures. Game players will collect points every time they manage Little d's dig deep enough to "hit gold." What's really cool is that the points collected are redeemable for actual Denton-centric stuff like Denton gear, food, event and attraction tickets, concert access, just a few examples of what Little d will find if he can steer clear of Cluck.
This weekend is an ideal time to try out the app. Denton Main Street Association's annual Arts, Antiques & Autos Extravaganza, Saturday from 9:00 a.m. to 3:00 p.m. on the square. Cars, bikes, art, crafts, antique appraisals, music, Chalk Fest, and an auction ring in Denton's fall festival season. Then the next weekend is Blues Fest at Quakertown Park and Oaktopia downtown. Then comes Dog Days of Denton and Mean Green Game Days, Geezerpalooza - all downtown one right after the other. Isn't that Denton?
Get the app. It's where Denton goes for a downtown good time.