Cluck Gable crows and plops onto the field. I am Little d, the Mohawk dog, at the edge standing at the ready. Play! I pick a spot far from the rooster and scurry there to start digging. I hit gold, and twenty-five coins fly over the field and into my trove. Cluck spies me, heads my way, and I run to the other side of the field. I dig like mad, but Cluck is onto me, barreling down. I leave a half-dug hole and run. Cluck clucks angrily, feathers flying when he discovers the hole. He crows and comes after me. I zig-zag, back-track and finish the hole for a 500 coin bonus. Yes!
I am playing the game that is all the rage these days. It's the newest addition to the Dig Little d app that launched in September, an interactive guide to attractions, eateries, live music, events, nightlife venues and parking in the downtown Denton area.
Designed by Denton's own From the Future app and game-designing company, the Dig Little d app is part of a campaign designed to encourage patrons to brave the dust and detours and keep our businesses strong throughout the Hickory Street improvement project. Soon, Hickory Street will re-emerge with wide, smooth sidewalks, benches, lovely landscaping, and additional parking. Until then, the app makes navigating the area easy. A push notification option on the app lets businesses offer impromptu specials, flash sales, and app-user-only freebies.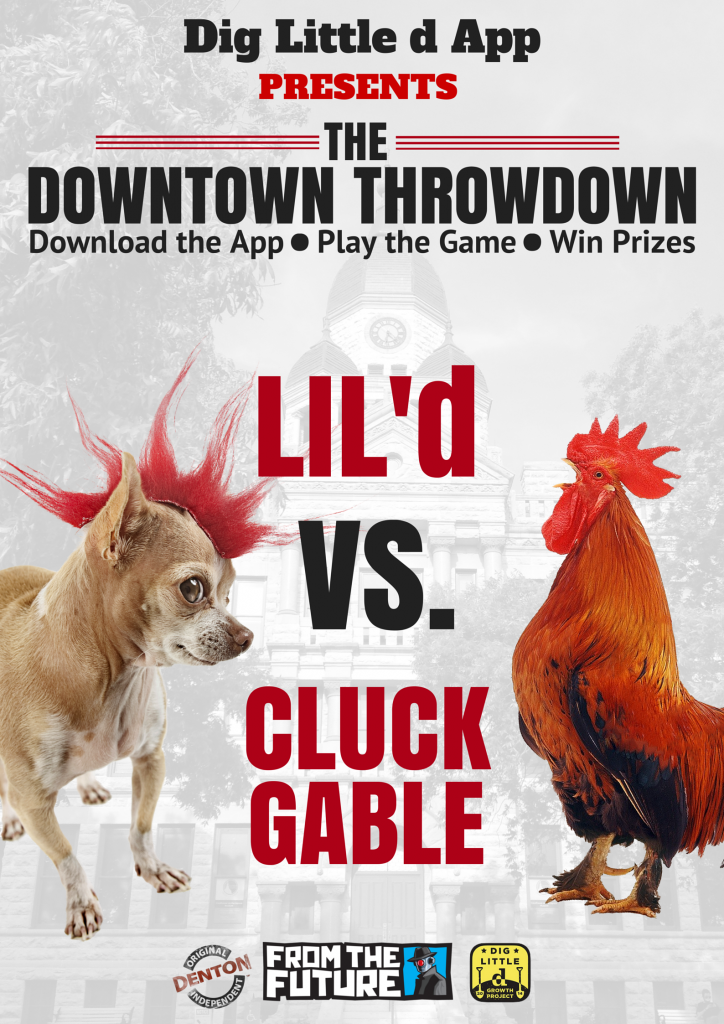 Wait a minute! Am I seeing double? There are now two Cluck Gables after me! I head for a corner and start digging. The Clucks zero in and make a beeline for me. I turn down the field and double back, but the Clucks split up in a divide-and-conquer move. Stunned! One of the clucks hit its mark, feathers fly, and a few of my hard-earned coins disappear. I snarl, dazed, staggering to find my footing. Scrabbling ensues as I start a new hole. I'm still in the game.
Three Cluck Gables? I win again! My treasure trove is boasting some weight in spite of the earlier rooster hit. And now there are four Clucks. This is my game best so far. I cut my video game teeth on Atari and Pac-Man in a pre-Nintendo world. I totally missed Game Boy, X-Box and gaming in general since the Pac-Man days, so the fact that I'm at the four-rooster level ought to tell you something about the game's uncomplicated and intuitive learning curve. But make no mistake. It is challenging and just as addictive as good old Pac-Man ever was.
Luckily, when "Game Over" sends me back to level one, my earned coins stay intact. The game offers a long list of Denton swag and Dentoning experiences for which I can redeem my winnings. I can cash out any time after 1,000 coins, I've got my sights on some big stuff.
More than 900 people are playing Dig Little d today. Some of the younger whippersnappers around our office are envious of my coveted level four-status. "How do you do it?" they want to know. I smile mischievously, but I really have no idea. I think I'm just lucky.
I was pondering my luck, thinking about Vegas, and checking my coin balance just a while ago when Veronica popped into my office. I discreetly turned my phone to silent so my gaming break remained my little secret. "What's up?" I asked.
"The game," she lamented. "I finally made level three but only by running from the roosters. I can't get to the bottom of enough holes to rack up any treasure!" On the outside, I offer a sympathetic expression. On the inside, however, I'm jubilant.
"I thought maybe the game is too difficult," she went on. "But then there's this."
She held out her phone with a smug smile. The playing field. Little d and roosters at the ready. And a trove busting at the seams with 1,926 coins.
"What!" I exclaimed. "Who's game is this!"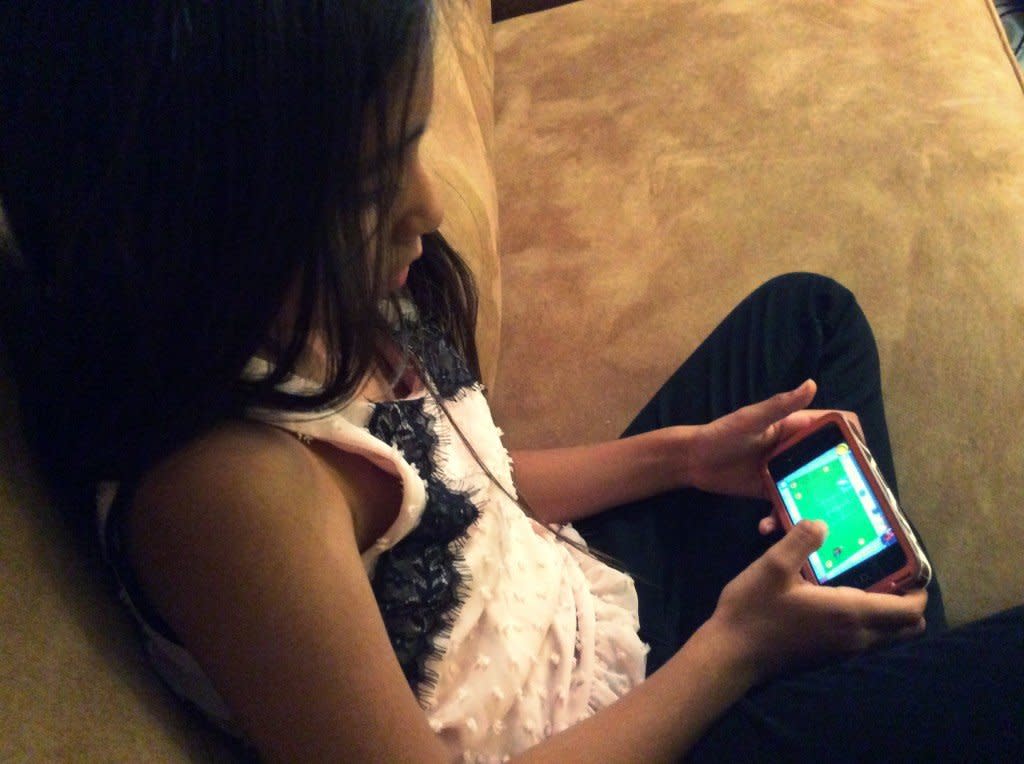 "I let Isabel play on my phone last night," she replied. "She's banking her coins to take her daddy on the Horse Country Tour."
Isabel is 8 years old. So, maybe I'm not as achieved as I thought. Maybe I just need more experience, more focus.
Veronica gone, I pulled out my phone. Come on, Cluck. I'm Little d, and I'm ready.
The Dig Little d app is free to download and available for iOS and Android.