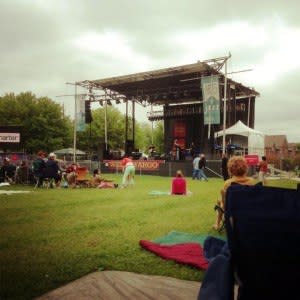 Denton has several annual events which help define it's soul. We recently  experienced 35 Denton, the Redbud Festival just occurred, the Blues Festival was a while back, but this weekend brings the pivotal event of Denton culture......the (23rd Annual)Denton Arts and Jazz Festival.
JazzFest revolves around, and exists because of, music. I look at the music of JazzFest to be the means to an end though........the end being PEOPLE. It's like the music is just background ear candy for seeing, conversing with and being with our fellow Dentonuts.
I guess I should mention that, although I like jazz, a little of it goes a long way. It's in rotation in my music library, yet doesn't take up a lot of space there. BUT, Denton is known for jazz, and JazzFest is the annual Woodstock for jazz aficionados from around North Texas. This year's line-up was pretty impressive. In addition to incredible local artists such as Bonnie and Nick, bass-player  laureate Drew Phelps, Gale and Mario Cruz, Bubba Hernandez,Little Jack Melody & The Young Turks, Le Not So Hot Klub du Denton(Not France),Chris Watson, and the annual JazzFest finale,Brave Combo......Denton was gifted (JF is FREE!!) with performances by David Sanborn and the Original Blues Brothers Band.
All great stuff and worldclass talents, but I'm not a music critic (well, except for ABBA, I don't think what they did/do is music) so, as I said, I consider JazzFest to be more of a people event with awesome music as a backdrop. There are multiple stages at JF, so it is not conducive to being a "plant one's self solely in one place for the weekend" kind of event. It is a good idea to establish a home base and then roam from there. That is what my friends ((yes)) and I do every year. The ideal plan is to find a shady place close to the stage where most of the music you want to hear is being played. From this base, the various members of the group can venture off to the performances of their choice.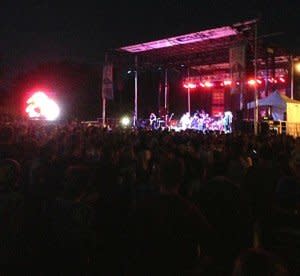 JazzFest is populated primarily by Dentonites, although it is a huge draw for people from all over the Texas, and really, the Southern U.S.  With so many Denton residents in such a small area, JF is like a compression of time and space. Wherever you go, you see someone you know and more than likely, someone you haven't seen in X # of years. Mornings and early afternoons are the best time for this pursuit due to the ever-growing crowd throughout the day. The sidewalks and pathways through Quakertown Park are always crowded, and at times, all but impassible. The real crowds converge nightly for the daily feature acts.
For the sake of authenticity, this blog is being written from the semi-comfort of my lawnchair near the main stage at the Denton Arts & Jazz Fest. I have the perfect place to people -watch and Brave Combo will close the Festival before long. The weekend has been perfect in every way, especially weather-wise. With JF occurring in the Spring, weather has been an issue in past years, but the Jazz Gods smiled on Denton this weekend! The NEXT JazzFest is always something to look forward to and it never seems to last long enough. It is what it is and it's always great. I never feel a let down after JazzFest ends, because there's always something else that's just about to happen in Denton. For instance........Twilight Tunes on the Square starts THIS Thursday, May 2 (how good is THAT for timing?) Twilight Tuneshappens every Thursday and runs through July 4. It's like a mini-JazzFest, yet features any and all types of music.  Just bring a blanket or lawnchair, food and/or drink if you want and enjoy the people and music of Denton.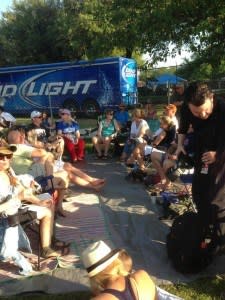 Denton is a music town, but it's the people of Denton who both make and listen to the music. In my book, that makes people the most important ingredient. Fortunately, we have lots of great people and lots of great music in the town we call home. We are blessed.......