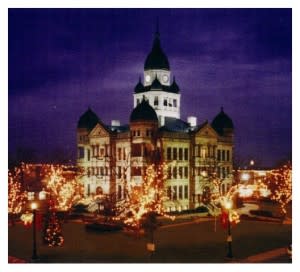 The 23nd Annual Holiday Lighting Festival at Denton's Courthhouse-on-the-Square promises to delight visitors of all ages with the sights and sounds of the holiday season. This marks an historic year for the festival, as the event has officially moved to Friday – so you and your family can gaze at the twinkling lights, carol to your heart's content, and sip wassail well into the evening.
A tremendously successful family-oriented event, the Denton Holiday Lighting Festival kicks off with a sing-along and the lighting of the community Christmas tree on Friday, December 2 at 5:30pm. Visitors will enjoy music and dance recitals by area performers, have a visit with Santa, make arts and crafts in our children's area, enjoy snacks from one of our food vendors – and most importantly – can donate a toy to the Community Toy Drive benefiting needy families in Denton County.
You don't want to miss the exciting entertainment in store on the Festival Stage this year – it's going to be an amazing night of music, dance and holiday cheer you won't soon forget.
The Denton Holiday Lighting Festival was started in 1988 by a group of volunteers. Today the annual tradition is continued by the efforts of volunteers and funded by donations from local businesses and individuals. For more information or to make a donation, please visit www.dentonholidaylighting.com or Facebook.com/DentonHolidayLighting.
INFO:
In case of inclement weather, please contact the CVB at 940.382.7895
"Like" Denton Holiday Lighting Festival on Facebook.
DHFA is a not-for-profit 501(c)(3) organization whose primary mission in hosting the annual Holiday Lighting Festival.  The DHFA raises funds from the private sector to purchase banners, lights and decorations for public buildings and the Courthouse-on-the-Square in historic downtown Denton.