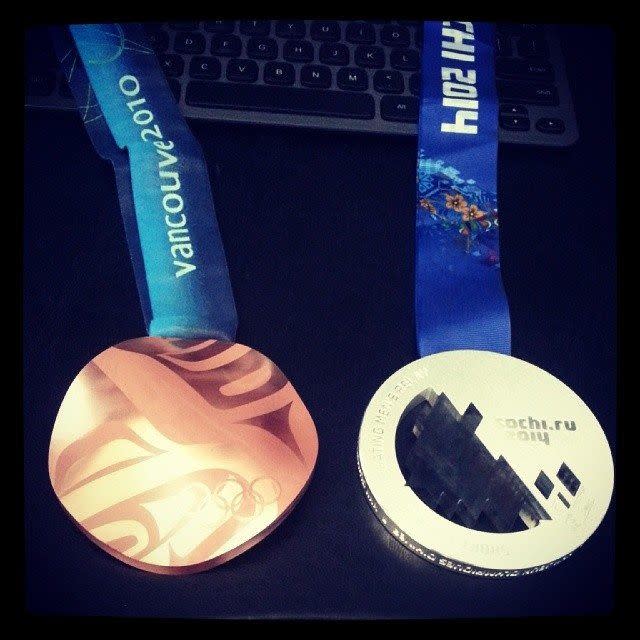 Jordan Malone's Bronze from the 2010 Olympics and Silver from the 2014 Olympics. Photo from Jordan Malone's Instagram account @j2k111.
There must be something in the water here in Denton, something that turns Dentonites into Olympians. In the 2014 Sochi Winter Olympics, Denton was proud to have two hometown heroes competing for Team USA. University of North Texas alum Johnny Quinn competed in Sochi for the US bobsledding team, and Jordan Malone was on the men's short track speedskater team. Jordan took home bronze in the 2010 Vancouver Olympics, and to add to his collection, he won Silver in the 2014 Sochi Olympics.
Being no stranger to adversity, Jordan worked hard for those accolades. He has had many a gut-wrenching injury, everything from a torn ACL to a broken face. But even when the outlook was glum, Jordan bounced back and decided that he wouldn't let those setbacks stop him. To Jordan, these were just bumps in the road, not roadblocks, so he pushed right on past and kept a smile on his face.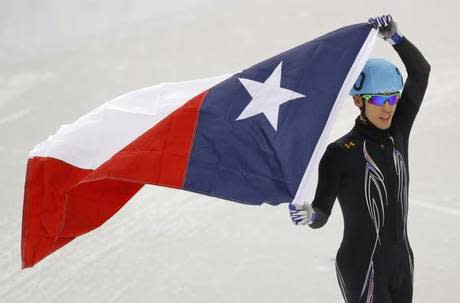 Jordan Malone, US Olympic speedskater. Photo from the Denton Record-Chronicle.
Olympic talents are impressive, but the icing on that cake is how our Denton Olympians remain so down-to-earth. They are humble, and they do they forget where they're from. That's what makes them so special to all of us in Denton. Jordan grew up in Denton with his mom, and anytime an interviewer asks where he's from, he smiles and proudly boasts that he's from Texas. You can tell from the warmth and sincerity in his voice that he's proud of his roots too.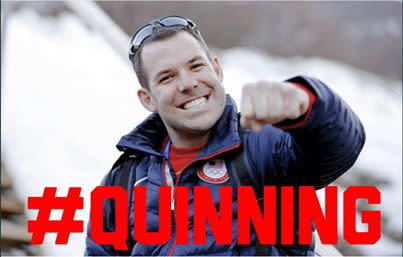 Johnny Quinn, US Olympic bobsledder. Photo from Mean Green Sports Facebook page.
Likewise, Johnny Quinn is also quick to show his Mean Green pride. Johnny kept busy at UNT playing for both the football and track teams. Seeing him tweet a picture of himself throwing up an eagle claw in front of the Olympic torch certainly brought smiles to many back home. But the tweet Johnny Quinn really got famous for was a picture of a door he busted through after being locked in his hotel bathroom in Sochi. Quickly he became a social media sensation as everyone caught on and started posting pictures of themselves #Quinning.
Read more about Jordan Malone in the Fall 2011 issue of Denton Live magazine. See #Quinning pictures at UNT.