Beat the Heat with These Cool Cocktails  
Feel that bead of sweat dripping down your forehead? That's how you know it's time to cool down with a frozen drink! While drinks on the rocks are always good, there's something extra refreshing about a frosty cocktail! So if you're sweltering in the summer heat, here are a few spots to cool you down.
---
COOL BEANS BAR AND GRILL 
1210 W Hickory St, Denton, TX 76201

A staple of Fry Street, Cool Beans serves frozen margs by the glass OR pitcher. With a full bar, food, and patio, this is the perfect spot to spend the day or night with a glacial beverage. 

Pro-tip: Cool Beans has a rotating flavor-of-the-month margarita! 
---
ESKIMO HUT
717 Sunset St, Denton, TX 76201
Eskimo Hut is a drive-thru convenience store located off of University Drive. The drinks come in a variety of flavors, like Tequila Sunrise and Cactus Juice, with add-ons like gummy bears and other toppings. With a cult following on social media, you'll get plenty of online engagement if you post a pic with one of these delicious treats! 
Pro-tip: Go for the gallon - trust us! 
---
GNOME CONES
205 N Elm St, Denton, TX 76201

Did you know that Gnome Cones has a boozy version of their treats? They're called Naughty Gnomes and come in two flavors - Sweaty Yeti and Goblin Berry - the perfect summer treat! 

Pro-tip: Grab a boozy popsicle while you're there!  
---
Mixxed Daiquiri Express
4145 South Interstate 35 #105, Denton, TX 76210

Mixxed Daiquiri Express has seven delicious daiquiri flavors. Their custom combinations, like Hurricane & Sour Apple, Pina Colada, Hurricane and Strawberry, or White Russian and Pina Colada, will amaze you with the variety of ingredients included. Sizes range from 16oz to one gallon.

Pro-tip: Add an extra shot and grab a few jello shots while you're there!  
---
TOM'S DAIQUIRI
1212 W Mulberry St, Denton, TX 76201
A little taste of New Orleans right in Denton! Tom's Daiquiri has an extensive beer list and signature frozen daiquiris on tap, plus a full liquor selection you'll be transported right to the Big Easy. Have a seat at the bar and enjoy the live music, pool and darts! 
Pro-tip: They have drink specials throughout the week. 
---
MARGARITA MOSEY
This is NOT your average margarita walk – this is a mosey! Celebrate the summer months with a stroll around our square, all while sipping on a margarita. Grab yourself a frosty beverage, some good friends, and pick up one-of-a-kind clothing and accessories from our boutiques and stores. Tickets are on sale now, click here for more information.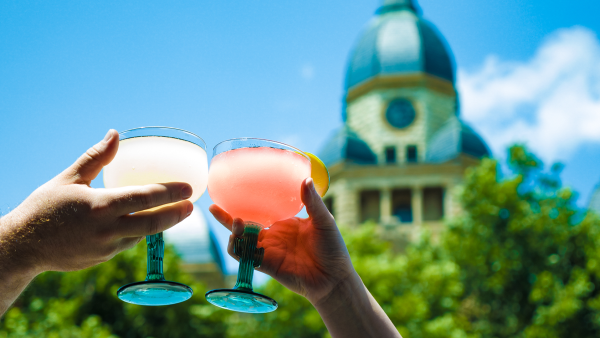 Photo by Conrad Allen.
---
No matter how hot it gets, Denton has you covered. Can't decide which place to try? Book a stay for a weekend and try them all!