[cols][six-col] Within DentonRadio.com comes a wonderful opportunity: almost every day I get to meet someone new.  Some of the most creative and innovative people (I believe in the world, but for the sake of argument I will say the DFW area) are in Denton, and it is my job to meet them and then tell everyone about them.  So, part of this blog is going to be about some of the exceptional people I have the honor of meeting.  I got to sit down with a musician named Kelsey Henry a few days ago to discuss her music career and this is what she had to say.
[/six-col][six-col]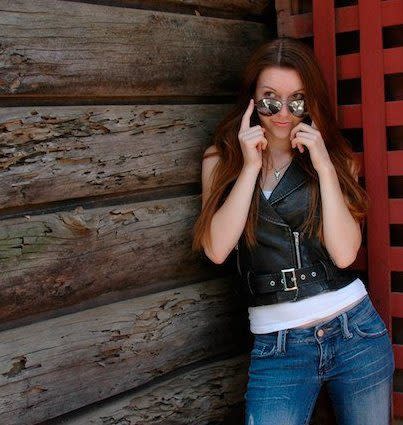 [/six-col][/cols]
How would you define your music?
"I would say that my music is more focused on my songwriting.  My songs are a vehicle for my words; it's all real life experiences.  I am country, but I am not traditional country, I am more modern country.  Sometimes I can be a little folksy, but I am usually pretty modern.  In one of my songs I define it as country twist on a rock 'n roll sound."
What is your songwriting process?
"Usually I write the lyrics and the music at the same time.  I make sure I write everything at once because I am feeling an emotion and I don't want to come back later with a different perspective.  I try to write everything as fast as I can (an hour or less) so that everything is fresh.  Sometimes I will write everything except the bridge because it needs a new perspective.  But I need to be inspired, if I try to force the song it won't sound right."
What instruments do you play?
"I play guitar (mainly) and I play foot-tambourine.  I play some drums (not a drum set, but hand drums), and I play some mean knitting needles!"  This is an inside joke; Kelsey does a lot of knitting and from time to time will "play drums" with her knitting needles.
Where can people see you play?
"I play the open-mic night at Banter Bistro pretty regularly and usually wherever DentonRadio.com books me!"
Tell us something about your personal life.
"I grew-up traveling with my family in an RV.  At an RV park in California I met my guitar teacher; he was a hippy/nurse/rock star (he looked like Jesus).  He taught me the basics and then sent me off into the world to learn the rest on my own; it took about a year before I really got the hang of it.  He and his family have become very close with us, they are our second family; his wife would teach me the basics and he would show me how to put it all together.  All of the traveling and life experience is what has helped me develop my songwriting today."
I see something special in Kelsey, she commands the room when she plays.  She is a young artist that I think has a very bright future.  For you to be able listen to her music, I have added a link to one of her songs below.
"No Jake, don't add a link!  I recorded those songs when I was fifteen, I don't like the way that they sound!"
Which is of course why I had to include the link anyway (she will forgive me); if this is Kelsey Henry at 15, imagine what she will sound like when she goes back into the studio now!