The mission of the Denton Convention & Visitors Bureau (CVB) is "to market Denton, attract individual visitors, tour groups, convention and meeting groups, and sporting events to Denton, and provide management toward ensuring a positive visitor experience."  The primary way in which the CVB staff achieves this mission is to promote Denton's attributes as "products" that address specific interest audiences – such as music-lovers.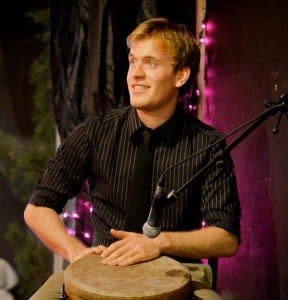 Recognition that Denton's music scene and the massive local talent pool that fuels it are something uniquely special. The CVB set out three years ago to try to build a vehicle for delivering the Denton music scene to the world, thereby enhancing awareness of Denton as a viable visitor destination unlike anywhere else in the world.  Online radio the chosen route, the project concept just couldn't find its legs until young entrepreneur and musician Jake Laughlin arrived on the scene with his fledgling new DentonRadio.com station in tow.  He needed credibility behind his dream and his many local artists and the CVB needed his expertise.  That is how the DentonRadio.com of today was born.
The online radio format has proven to be an imperative tool in promoting Denton – especially our music scene.   But DentonRadio.com also promotes local businesses and up-and-coming attractions like the Denton Community Market.  DentonRadio.com has multiple benefits for our local economy.  For starters, the station has no geographical boundaries and can be enjoyed by anyone in the world with an Internet connection!  Thinking in terms of keeping our vibrant creative community vibrant, DentonRadio.com introduces local musicians to new audiences thus promoting their success in the music world and keeping Denton's music industry healthy and fruitful.  On the flip-side, audiences are discovering new music and new artists they would never have known if not for DentonRadio.com.  Together, great Denton talent combined with audiences hungry for new, original artists, the CVB has an incredibly unique and powerful tool that is drawing more and more attention by the day.  Since January 2013, DentonRadio.com has increased daily listeners by almost 1,000% and Denton tourism is up by 11%.   The market is out there and DentonRadio.com is the tool that is reaching them.