My favorite movie of all time is "Steel Magnolias."  The nuances that rank it so high are numerous.  The story line is great, of course.  But what I love about the film is much deeper.  It's the connectivity of the characters within the smallish town, how their lives intertwine through years of seasons.  It's the everyday life of everyday people defining a unique, everyday culture.
The last day of February was a "Steel Magnolias" kind of day in Denton.  The sun was warm and bright and neighbors were outdoors working on Walnut Street downtown.  Some were on ladders hanging color-brilliant streamers, banners and twinkle lights.  Others were setting up vendor tents, tables, and staging.  Excitement tinged friendly banter as they worked, sharing tools, jogging here and there to lend a hand wherever needed.  They were teeming for Denton's first Mardi Gras Festival.
Around town, the buzz was contagious.  Happy hours were jostled from their regular watering holes and patios to the park-like pop-up carnival on Walnut Street.  Everyone was aiming toward Denton's new party.  Similar to the movie's opening, the town was preparing to celebrate, and everyone had a part in making it happen.
By 5:00 that afternoon, live jazz and zydeco music rang from Sweetwater's patio.  A crawfish boil was underway.  Rum cake, meat pies, gumbo, King Cake ice cream, and Cajun pizza were among the Mardi Gras fare.  Smells and music and beads and throngs of festive folks swirled together beneath the summer-like sky and Mardi Gras décor.
It became "Steel Magnolias" for me as we called out to one another in
greeting.  We shared warm Denton hugs, kisses, handshakes and waves.
"It's been awhile!  How're you doing?!"
"Look at these kids.  My how they've grown!"
"How's that project coming?"
"Where ya keeping yourself these days?"
…and so on.
I recalled the Christmas Festival scene in the movie.   Everyone is seeing one another, catching up in the merry atmosphere as though they haven't connected in while.  It was the same at Denton's Mardi Gras.  Everyone gets so busy, wrapped up in our commitments, work, and to-do lists.  We become consumed by our individual universes and float to the fringe without realizing it.  And then there is a gathering, a Mardi Gras, and the "shrugging" is tangible.  That's the point when we check our briefcases at the gate and get about the business of Dentoning.  We come together to be ourselves, relax, party, and enjoy our friendships.  We reconnect, plug back in, and relish this Denton life we share.  Families, students, young people, visitors from all manner of backgrounds, ethnicities, economics, and education Dentoning together revel in this culture that thrives on our collective differences.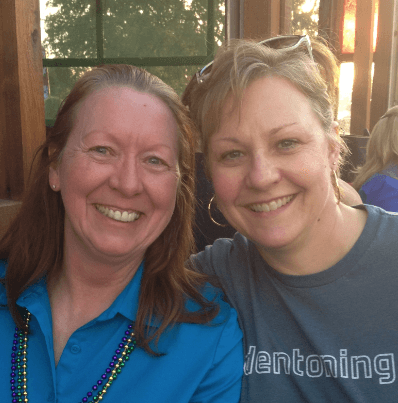 Another "Steel Magnolias" moment occurred when I met Peggy from out-of-town.  Alone when she arrived at Mardi Gras to watch her son perform, she had many new friends by the end of the evening.  She offered to share her table on Sweetwater's sidewalk, and in a snap she was one of us.  More than 20 Dentonites stopped to say hello to Peggy. "I've never met so many friendly people all at one time!  I had a blast!" she told me as we said goodbye.
I love this town!
A special shout out to the ringleaders who brought Mardi Gras to Denton:  Karen Meredith at Sweetwater, Ken Willis at Beth Marie's, Scott Campbell at Dentoning, Jeremy Brand at Abbey Inn, Kathy McFarland, and the Denton Main Street Association for their many volunteers.  To the many others who pitched in, you know who you are, and we appreciate you.  What a soiree it was!
As I write today, it is 20 degrees and the summer-like sky of yesterday is pouring ice, turning the spring green back to winter white.  Only in Texas, they say.  Perhaps this is it, though.  The warm greens and yellow sunshine will be back in a couple of days, hopefully to stay this time.  Munch Madness is next on the Dentoning agenda.  Think March Madness but with food instead of basketball – a sport you can sink your teeth into.  Get the details at www.facebook.com/downtowndentontexas.
Like "Steel Magnolias," no matter the season, we need each other.  Dentoning is how we connect, shrug our worries, bask in our culture, and chillax.  Come on out and play.  It's how we do life in Denton.