The Denton CVB coordinated with the Fixed Base Operators (FBOs), Business Air and U.S. Aviation, at the Denton Municipal Airport to welcome charter and private planes arriving for Super Bowl. Pictured, volunteers Priscilla Sanders and Julie Glover wait for the next flight to land.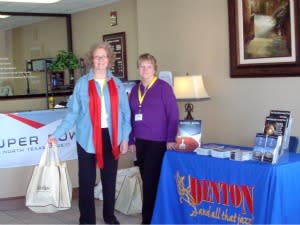 The Denton CVB represented Denton's position as one of the twelve host cities of the North Texas Super Bowl. One the perks each city received was a 2-hour window in the Official Super Bowl Media Center where the Host Committee exhibit was completely theris and theirs alone. Denton's Spotlight Event was on February 4, a day that dawned icy and gray, the fourth day in a row our region had hardly moved from within the grip of the worst Winter Storm in our history. Braving the elements, however, a hearty delegation made its way to Downtown Dallas to present Denton to hundreds of journalists from around the world. Denton's team members are pictured (L to R: Chuck Fremaux, Kim Phillips, Clancy Hardin, Veronica Maldonado, Dana Lodge, John Cabrales, Mayor Mark Burroughs, Chris Phillips.)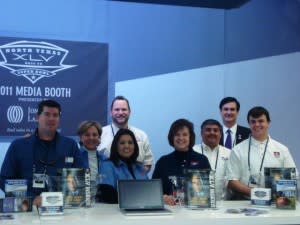 In an effort to get the Denton Airport runway open to accommodate Super Bowl and routine air traffic, the Denton Municipal Airport arranged for a turbojet powered ice removal truck to clear the packed snow and ice from the runway and dry the surface.