A few weeks ago, Denton Convention and Visitors Bureau (CVB) staff members were part of a multi-member team exhibiting at SXSW Interactive (SXSWi). There, we employed cutting-edge technology to virtually whisk that global audience to Denton where they experienced the essence of our city.
The destination marketing industry as a whole is only just awakening to the brave new world of virtual reality (VR). While familiar to avid gamers, this space is a new frontier for the rest of us, which is why Denton's SXSWi exhibit drew national media attention.
"This is the coolest way I have ever toured a city!" our team heard again and again. Other SXSWi destination exhibitors were eager to see how it worked. No doubt, destination marketing is on the verge of the most radical change in how potential visitors learn about places since websites arrived on the scene.
Last week, the Denton CVB was in Amarillo promoting Denton at the 2017 Texas Travel Fair. This trade show is part of the Texas Department of Transportation Travel Information Division's annual Travel Counselors Conference. Travel counselors are the professionals who assist and advise millions of travelers at the official Travel Information Centers located at Texas' 12 main points of entry. The closest to Denton is at the Texas-Oklahoma border in Gainesville. More than one million visitors come through just that center every year.
The Travel Fair audience also includes Texas Parks and Wildlife officials, AAA leadership, Texas Highways magazine and website editors, and city visitor information center directors from across the state. Discover Denton Welcome Center manager Randi Sue Surratt was among their numbers. Since the welcome center just opened last June, this is the first year for Denton to be represented as both an exhibitor and a state-recognized visitor center.
Denton was one of 65 cities and attractions exhibiting at the Travel Fair this year. We go for the opportunity to meet counselors face-to-face and educate them about our attractions, festivals, lodging options and new developments, like our soon-to-open Denton Convention Center.
After witnessing SXSWi crowds relish our VR adventures, we decided to try them with the counselors. Once again, the Denton exhibit stood out from the rest. We were the only VR booth on the showroom floor, and it was the first-ever virtual experience for the majority of the Travel Fair audience.
"Incredible!"
"I felt like I was there!"
People bobbed to the music, caught their breath while standing atop the Courthouse on the Square, ooohed and aahed over places they've heard us talk about but not seen in person. The virtual visits brought Denton to life so vividly that counselors walked away feeling as though they had just been here.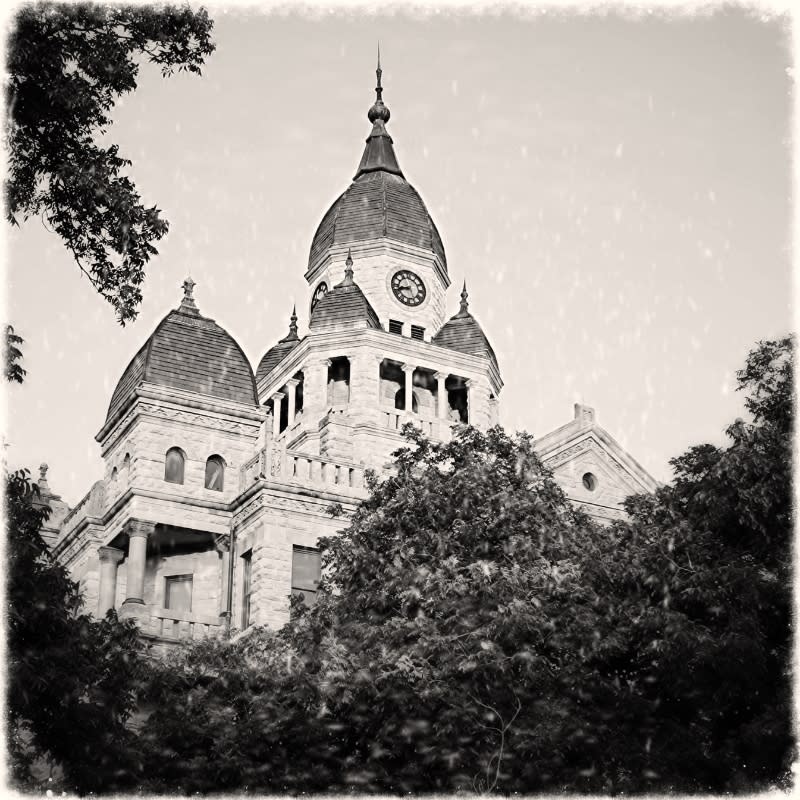 If you've ever stopped at a travel information center, you know that brochures, magazines and maps are the mainstay takeaways. Counselors' knowledge of Texas is astounding, and they are exceptionally adept at helping visitors achieve their travel goals. It has been this way for Texas travelers since 1936.
The evolution of video as a destination marketing tool over the last two decades reached travel information centers as an additional layer of exploration to help visitors decide what they would see and do along their travel routes through the state. Smiling families on the pages of a brochure are good. Watching families move, interact, laugh and have fun made a deeper, more memorable impact. The brochures went out the door with them while videos teased their memories long into the future.
Watching the counselors experience Denton through virtual reality in our booth, it occurred to me that VR is soon likely to be integral to travel counselors' everyday work. As each donned VR headset and headphones, I wondered if they realized they were seeing Texas as visitors will see it in their centers in the not-too-distant future.
Since delving into VR, we have learned that the bulky headsets and headphones required to invoke the virtual reality experience today will quickly go the way of the flip phone. Virtual reality is on track to become as much a part of our American life as the smart phone, without which most of us are as lost as if we showed up to work in our pajamas.
VR is an enigma today. It's way cool, and Denton is far ahead of the curve. But the new is momentary, and we know that. The Denton CVB has a reputation for doing things no one else has tried, so we are already working on new techniques that will deepen our VR experiences, ensuring our place as head of the pack.
True to our brand, we have proven once again that we are Denton, original and independent.
Haven't had a chance to check out our 360 degree views of Denton? See our YouTube playlist here: