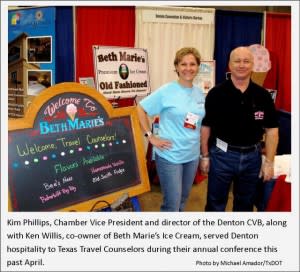 The Texas Travel Fair, produced and sponsored by the Texas Travel Industry Association of Texas during the Texas Travel Counselors Conference (TTCC), represents one of the premier showcase opportunities for Texas destinations.  Held April 28, 2011 in Arlington, the Travel Fair is a trade show targeting Texas Department of Transportation officials, Texas Travel Counselors from the 12 Texas Travel Information Centers at Texas points of entry, and Texas Parks & Wildlife officials.  More than 100 travel counselors participated in the show along with another 100 visitor center managers and AAA office representatives from around the state of Texas.
Communications & Visitor Services Manager for the Denton Convention & Visitor Bureau (CVB), Veronica Maldonado, manages information for the CVB's visitor center and attends the TTCC each year.  The education sessions and tours of the host city area give Maldonado greater expertise regarding travel opportunities throughout Texas.  She shares new knowledge with CVB Visitor Services staff so visitors and residents get the most up to date information and quality service when they visit the CVB and Chamber offices.  TTCC also allows her to spend time one-on-one with the other tourism representatives to educate them about what Denton has to offer.
At the heart of the TTCC is the Texas Travel Fair, an expo showcasing Texas cities and attractions beyond the host region.  Kim Phillips, Chamber Vice President and Director of the Denton CVB, along with Ken Willis, co-owner ofBeth Marie's Ice Cream, promoted Denton at the travel fair.
The Denton CVB's exhibit was a creative mini-version of Beth Marie's Ice Cream on the square.  A little chalkboard just like the famous menu at the restaurant presented four uniquely Denton flavors-of-the-day ice creams.  Travel counselors and managers returned to the Denton booth multiple times to "dip into" more awareness of Denton.  The Beth Marie's theme provided a tangible way for attendees to experience a little of the ambience of Denton's vibrant downtown.  While serving up ice cream cones, Kim and Ken talked about attractions, entertainment, special events, and accommodations in Denton.  New and existing collateral materials including the Horse Country Tour brochure, Hip to be Square brochure, and the Denton Live magazine were also on display.
Travel Counselors left the Travel Fair armed with new information about Denton that they, in turn, will pass along to the thousands of visitors passing through their centers throughout the year.