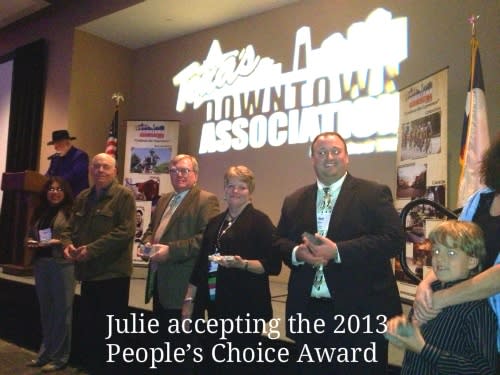 It was raining.  We shoved the last suitcase into the final too-small space without a bag, gift basket, exhibit, collateral, or piece of luggage already stuck in it.  The three of us drip dried in the SUV headed south.  Destination:  Texas Downtown Association (TDA) Annual Conference.
Julie Glover, Christine Gossett and I have devoted the bulk of our Denton careers to encouraging Denton's steady evolution into the vibrant city we are today and to talking it up every chance we get.  Julie is Denton's Economic Development Program Administrator.  Revered in the world of TDA, she has been the lead on downtown Denton's metamorphosis over the past two-plus decades.  Christine serves as coordinator for Denton Main Street Association (MSA) and its many annual events and promotions, such as the upcoming Wassail Fest held in conjunction with the Holiday Lighting Festival.  Most of you know my gig.  I lead the destination marketing & management initiative at the Denton Convention & Visitors Bureau (CVB).  When the three of us are in the house, everyone knows Denton has arrived.  We have also learned that when the three of us are in a car together, it will be packed to the brim.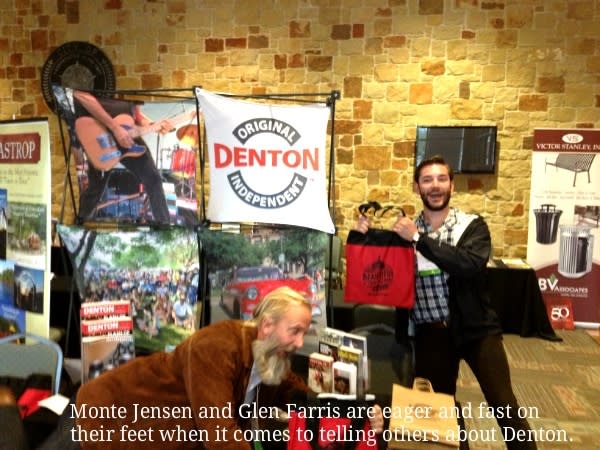 We were glad when the rain stopped and two of Denton MSA's board members sailed into Bastrop with the sunshine the following afternoon.  Monte Jensen, owner of Mellow Mushroom Denton, and Glen Farris, owner of Denton-based Spune Productions, carved two days and nights out of their own busy worlds to make Denton's TDA representation impossible to miss.  This is an important detail because we showed up at TDA 2013 to demonstrate the seamless working relationship we share.  Ours is a collaboration of resources that make Denton a more than capable host for TDA's next open years, in 2016 or 2017.
Our conference strategy was "divide and conquer."  We split up, attended different sessions.  We took turns talking about Denton in the marketplace expo.  We learned, gleaned new ideas and shared some of our own.  The most remarkable take-away for all of us, however, was seeing first-hand how others perceive Denton.
It is eye opening when you catch a glimpse through someone else's eyes of something you see every day.  What I mean is, Denton is special.  But, being here day in and day out, the magnitude of our specialness sometimes slips from consciousness.
Our culture is the bedrock of our special.  Many other cities consider Denton a goal, the example of what they hope to become.  While visiting with our peers at TDA, we saw eyes full of awe when they heard our casual mention about the easy way we meet challenges or take on new projects or achieve such highly-regarded accomplishments – like this is a normal thing!  In the midst of working through any of these, every one of us sweated, stressed, slept too little, worked too much, worked too hard.  But, we did it together.   Herein lies our magic:  this culture of alliance that doesn't require twisting arms, pulling teeth or even bribery to get a project in motion.  We come to the table, personal agendas aside, ready to work for the good of the many.  This really is how we roll.  And it is unusually special and very powerful.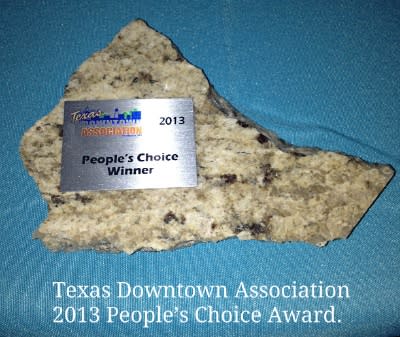 Other cities envy this.  They spend tremendous effort trying to build a Denton-like team.  They are mired in frustration because trying to rally collaboration costs project progress time.  But here in Denton, we are not surprised, grateful, but not surprised when Dentonites act like Dentonites.  Partners, resources, networks, and skill sets come forward, roll up their sleeves, and projects sprouts legs and take off.
Our Denton delegation returned home with a trophy:  one of the coveted TDA President's Awards.  TDA presented Julie Glover the 2013 People's Choice Award for one of our stellar downtown projects:  The Industrial Street Townhomes.  Julie is past chair of the TDA and continues to serve on the board.  She is an expert, and the members of TDA look to her as the leader we already know her to be.  That award in her hands was right for many reasons.  But Denton is the big star.  One of Texas' first Main Street cities, Denton is the finest example for what a place can become when vision is clear and many shoulders share work.