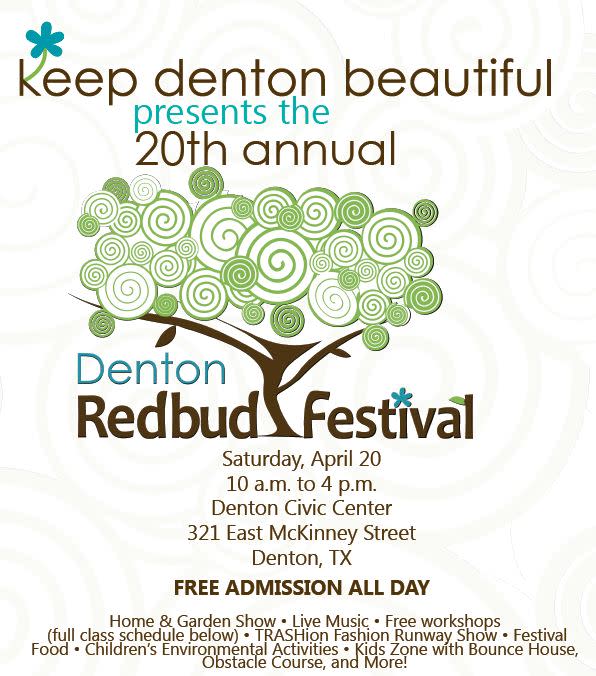 Denton is the Redbud capital of Texas. That means this time of year, you can expect to see lots of beautiful pink blooms on the many Redbud trees around town, signaling that spring is here. To celebrate, Keep Denton Beautiful holds theDenton Redbud Festival as Denton's official Arbor Day event. In its 20th year now, the Redbud Festival will be this Saturday, April 20th from 10 a.m. to 4 p.m in the Civic Center.
Whether you're a master gardener, a first-time home-owner looking to start your garden, or even if you just want to enjoy the gorgeous whether at a fun festival, you'll want to come by the Civic Center this weekend. There will be lots of vendor booths for all of your home and gardening needs, so pick up some plants and give them a good home.
It's going to be my first time to go to the Redbud Festival, and I can't wait for it to get here already! My fiancé and I are getting our first house next month, and we can't wait to start growing some vegetables in our new yard. In the meantime, he's been very busy tending to the plants on our apartment balcony. So we're looking forward to the Redbud Festival to sit in some workshops to learn about gardening and have those burning questions answered. And while we're there, of course, we'll go ahead and pick up what we need from the variety of vendor booths.
Like us, if you're still in an apartment and don't have a yard to garden in, you may want to stop by the Community Room from 2 to 4 to learn about container gardening. Plus, if you pre-register for this workshop, you get to take home a FREE container gardening kit. (They had me at "free"). To pre-register, call (940) 349-8737 or send an email to lauren@kdb.orgto reserve your spot.
This Saturday will be full of something for everyone, including the kids. The Kid Zone will be complete with a bounce house, face painting, and family-friendly environmental education activities. And of course, there will be festival food, so bring your appetite! While you browse the landscaping and home improvement items around the vendor booths, you'll also get to enjoy the sound of live music- something we can never get enough of in Denton.
To celebrate Earth Day, there will also be a TRASHion Fashion Show at noon featuring clothing and accessories made from recycled materials- how very green! Clothes, accessories, AND it's good for the environment? Sounds good to me!
Here's a full list of activities for the Redbud Festival. All-in-all, sounds like the makings of a terrific Saturday downtown. Catch you guys there!