"Word: dentoning.  Definition: Exploring the shops, restaurants, music venues, and cultural attractions in Denton, TX."
T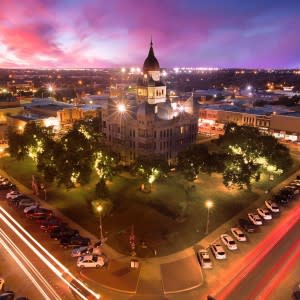 his is Livability.com's summarized definition of dentoning, a word now common in Denton culture coined by Dentonite Scott Campbell.   Per his Dentoning blog, Scott invented the word to describe "the experience of enjoying/discovering/exploring all that the great city of Denton, TX has to offer."
Last month, I dedicated this column to Denton's naming among Livability.com's list of the "Top 100 Best Places to Live" for the second year in a row.  Only two Texas cities made the ranks both years.  In 2014, Denton was #56 followed by Plano at #86.  This year, Denton is #84 followed by Richardson at #93.
And now, Livability.com has rolled out a new announcement.  Here is a hint. Culture Map Austin touted this headline last week:  "Texas college town named one of the best in the country and it's not Austin."  That Texas town is introduced on the "10 Best College Towns" list with Livability's definition of dentoning.  Of course!  It is Denton, Texas coming in at number five.
Let's be clear.  Livability.com doesn't just stick us on these lists because they like us, though it's apparent they do like Denton very much.  The reality is that through authentic scientific study, Denton keeps rising to the top.  If you missed my July 26 column, I urge you to look back where I went into detail about their research process.  The same guiding principles and strategies were employed for the college towns study except they skewed their research this time to cities with a high population of 25 to 29-year-olds, viewed as an "indicator of the towns' ability to retain graduates who decided it's a cool enough place to stay after graduation."
The study employed the same quality of life ranking criteria, as well, adding some additional criteria specific to college-age and twenty-something adults.  These include a high percentage of jobs held in the education sector and the availability of quality local restaurants and bars.
Regardless of your opinion on the importance of sports programs as a good college indicator, the study awarded bonus points to towns with Division I athletics for the boost they give to a city's identity.  Our Mean Green qualified us there.  And while housing in general was a criteria factor in the main study, this project narrowed that category to consider the availability and affordability of rental housing, essential to the student population.
One final consideration specific to the top college towns was the town and gown relationship between the university and the community.  It is interesting to note that after compiling the research, Livability.com dispatched their editors to visit cities the data concluded were the short list of the best.  They showed up incognito looking like the average visitor.  They struck up casual conversations with locals, talked to students while wandering the campus, and generally soaked up the vibe of the cities they visited.  In other words, at least while they were here, they were dentoning.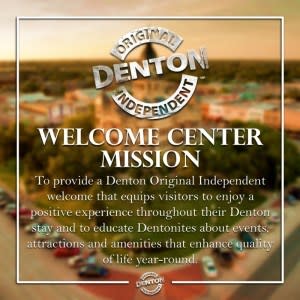 No one knew they were in Denton.  No person at the other end of a nonchalant interview knew they were part of a qualitative study.  None of the establishments they visited knew they were being scoped out either.  And we passed!  That says a lot about us.  It says we have come a long way in collectively understanding our original, independent character, embracing it and being proud of it.  Yes! (I am fist-pumping the air even now).  I wonder how much farther up the list we might be if the Discover Denton Welcome Center had already been a reality when they were here.  Next time!
This is a great quote from the Livability.com website.  "It doesn't take a master's degree to know that the best college towns appeal to more than just students. Sure, a quality education is a great outcome but there's more to life than what you find in a college textbook or lecture hall. College town residents benefit from the economic stability that universities provide and the creative energy that students bring. Living in a college town, even if you're not pursuing a degree, will certainly keep you entertained."
Reiterating what I said last month, arriving on yet another national best-of list demonstrates again the bullseye we hit with our "Denton Original Independent" brand.  It's an image, a signature clearly conveying our sense of place where creativity, individuality and originality are a tangible experience.
Welcome, students! May dentoning be part of your college adventure forging a lifetime bond to your alma mater and Denton.