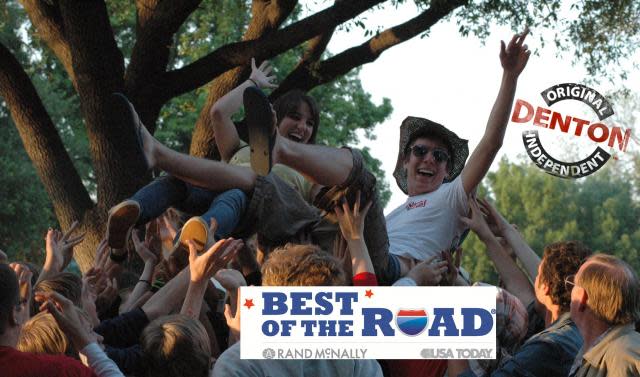 Denton is one of six finalists for "Most Fun" town in America" in Rand McNally and USA TODAY's "Best of the Road Rally".  More than 700 towns across the U.S meeting the criteria of population under 150,000 competed in 30 days of avid online voting.  Voters attempted to vote their town into the top six cities in any of five categories:  Most fun, most friendly, most patriotic, most beautiful and best food. Denton had more votes than any other of all 700 cities, placing in the top six in three of the five categories:  Most fun, most friendly and best food.  With the most votes in Most Fun and cities limited to entering Phase 2 of the contest in only one category, Denton is now in the running for Most Fun Small Town in America. All the votes and comments from Denton-lovers across the country really worked in Denton's favor and now Denton is preparing to wow the Best of the Road team selected to judge all six Most Fun finalists.
Team "Fresh Traveler" will be in Denton July 4th and 5th visiting fun local establishments and events over the two-day period.   "Fresh Traveler" is one of five teams selected by an expert panel of judges and each team will experience first-hand the finalist towns in their assigned category. The teams started their cross-country road trip on June 23rd from Washington D.C. and must complete their experiences and arrive in Seattle, WA by July 13.  Each team is blogging, tweeting, uploading video, and posting photos of their adventures along the way in hopes of earning the $10,000 prize that will go to the team whose adventure is selected as the Most Fun based on the team's interactive and ongoing presentation via social media. The winning town in each category and the winning team will be announced at the Annual Destination Marketing Association International (DMAI) Conference on July 17 in Seattle. The five winning towns will enjoy considerable media coverage through numerous nation-wide media outlets, including at least two Travel Channel shows, throughout the year leading up to the Best of the Road 2013 contest kickoff next spring.
"This is an amazing opportunity for Denton," says Kim Phillips, Vice President of the Denton Convention & Visitors Bureau.  "The value of the media exposure for Denton if we win this contest will be in the $1 million range.  For big destination marketing organizations like San Antonio or Dallas, $1 million may not sound like a lot of money.  But that is advertising and  market reach well beyond what we can accomplish within our regular budget. All the competing cities face similar budgeting challenges and are going all out at the local level to try to wow their judging team in hopes of winning that high-dollar golden promotional egg!"
Phillips, Secretary of the Texas Travel Industry Board of Directors, is a member of DMAI and will be in Seattle when the winners are announced at the Conference.
"I fully intend to come back to Denton with the 1st place prize!" Phillips said.  "Our community is coming together in this effort in unbelievably imaginative, creative ways.  We know who we are and what we've got in Denton and we can't wait to tell the world about it!"
Follow Fresh Traveler's adventure on Twitter @freshtraveler and @bestoftheroad.  You can also read their daily blogs plus see photos, videos and short films they are producing as they go at www.freshtraveler.com.  Lots of little tips to glean about Denton's Fresh Traveler team and just how Denton plans to WOW our way right into 1st Place!