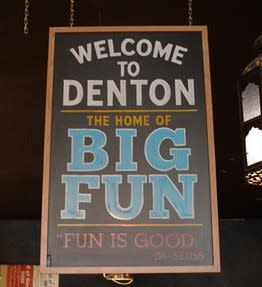 Now the world knows what Denton has known all along:  Denton is officially FUN.  Come see for yourself at one of the Denton watch parties on July 25 when the Travel Channel features the Best of the Road 2012 contest finalists in a one-hour special.  Visit www.Dentonisthefunnest.com for a complete list of participating watch party venues.  The limited edition "Fresh Traveler" orange shirts will be available for purchase at the watch parties as well.
More than 700 towns across the U.S meeting the criteria of population under 150,000 competed in 30 days of avid online voting in Rand McNally and USA TODAY's 2012 "Best of the Road Rally."  Voters attempted to vote their town into the top six cities in any of five categories:  Most fun, most friendly, most patriotic, most beautiful and best food.   Denton had more votes than any other of all 700 cities, placing in the top six in three of the five categories:  Most fun, most friendly and best food.  With the most votes in "Most Fun" and cities limited to entering Phase 2 of the contest in only one category, Denton competed for the title "Most Fun Small Town in America," against Corning, NY, Geneva-on-the-Lake, OH, Santa Claus, IN, Delray Beach, FL, and Buena Park, CA.
Team "Fresh Traveler" was in Denton July 4th and 5th to weigh their Denton experiences on a scale of "really fun to not-so-much-fun" against those they had in the other destinations.  "Fresh Traveler" is one of five teams selected by an expert panel of judges to experience first-hand the finalist towns in their assigned category. The teams started their cross-country road trip on June 23rd from Washington D.C. and were required to be at the finish line in Seattle, WA by July 12.  Each team blogged, tweeted, uploaded video, and posted photos of their adventures along the way in hopes of earning the $10,000 prize awarded to the team who demonstrated the Most Fun road trip experience via social media interactivity.
The winning town in each category and the winning team was announced at the Annual Destination Marketing Association International Conference on July 17 in Seattle: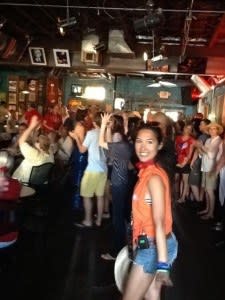 The Most Fun Small Town in America—Delray Beach, FL
The Friendliest Small Town in America— Murray, KY
The Most Beautiful Small Town in America— Bardstown, KY
The Most Patriotic Small Town in America— Gainesville, TX
The Best For Food Small Town in America—Sante Fe, NM
The winning team is Two for the Road, Nikki and Dusty Green, are a small town couple originally from Texas, who judged the Most Beautiful category
As a town in the top 6, Denton will reap promotional and exposure benefits for months to come including at least two Travel Channel shows, online videos, and social media leading up to the Best of the Road 2013 contest kickoff next spring.
"Denton came together in unbelievably imaginative, creative ways to stand out in the top of the more than 700 contestant cities," said Kim Phillips, Vice President of Denton Convention & Visitors Bureau.  "We in Denton know who we are and what we've got.  And nobody tells our story like we do!"