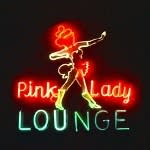 Denton is known for its art scene. With a city full of creatives, there are many places to go see local artwork. So, if you're curious and looking for something fun and stimulating to do over the holidays, why not have a relaxed night, going around town enjoying some artwork? The holidays can be stressful enough as it is, so a laidback trip to one of Denton's many art galleries is just the thing to help you take a load off during this busy season.
If you're looking for a little break from shopping on the Square, there are a couple of great places close by to visit to fulfill your art needs. At the Courthouse-on-the-Square Museum, an exciting and colorful exhibit will be up until January 31- Neon Cowboys & Pink Ladies, a display of photographs of neon signs and actual neon lights from the 1970s. Mike Cochran's exhibit tells the story of Americana by showing the regional neon light artwork of the Southwest. Only a few steps away, you can also swing by UNT on the Square on Mulberry and view the feature exhibit, David Blow: Retrospective, through February 10.
And if you haven't yet visited the Greater Denton Arts Council (GDAC) right across from the new DCTA A-Train stop at the corner of Bell and Hickory, make sure to check them out.  Boasting two art galleries, the Greater Denton Arts Council is free and open to the public. The GDAC galleries are open Tuesdays through Sundays from 1-5 p.m. The All the World's A Stage: Anita Lobel exhibit will be up through January 18 at GDAC's Meadows Gallery, and the Blissful Blues and Pointillism Purples - Susan Mapes Kemper exhibit will be at GDAC's Gough gallery through December 28.
If you're looking for something a little more upbeat and different, A Creative Art Studio hosts their First Friday event on the first Friday of every month, so make sure to mark your calendar for this weekend, December 7 at 7 p.m. The evening is full of art, music and participation from many of the art galleries and merchants on the Square. Oxide Galleryis a regular participant in First Friday events.  This weekend they hold a mini-reception for their Dec-Jan Art Show, a redesigned space for a roomier art show, and Independent Ale Works will offer free samples of their brews.  Click herefor a list of events and merchants participating.
Where does Denton get its creative juices?  The College of Visual Arts and Design has four galleries on the University of North Texas campus with fresh and different exhibits. Visit their website for additional information on all the different exhibitions scheduled for the holiday season.  Still wanting more artwork to view?  The Department of Visual Arts at Texas Women's University will exhibit artwork by the school's graduating students through December 15. For more information, visit their website.
With so many places featuring artwork, it's clear that art is not difficult to find in Denton. So in between big family dinners and shopping for presents, take a break, get in touch with your creative side, and bring the family to enjoy something new and amazing.