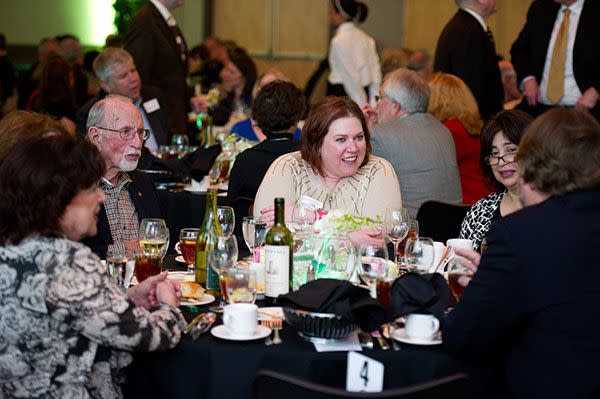 Who doesn't like a little fun tossed in with some mystery in a book? The author of the Lola Cruz mystery book series,Melissa Bourbon Ramirez plays her words just right to keep readers entertained and enthralled in her stories. And as an added bonus- you can now pick her brain and find out how she works and what inspires her to write. Ramirez will light up the conversation at Great Conversations 2013 on the topic of Mystery and Mayhem: Finding inspiration for writing in everyday life and the stories around us.
If you're looking for an intellectually stimulating evening to really make your brain percolate, check out this great event held by the University of North Texas's Honors Collegesr on Thursday, February 26th this year from 6 to 9 p.m. at the Apogee Stadium. The event is like a dinner party, but instead of everyone sharing one table, there will be 28 tables, each with its own unique host to lead conversation. These conversation leaders are all well-versed and accomplished individuals who will guide the banter of the table on important and stimulating topics, ranging from the intellectual to the light-hearted.
With such a wide selection of tables, hosts, and topics to choose from, there is certainly something to picque everyone's interests. Choose Table 21 to enjoy conversating with author Melissa Ramirez. Or try Table 1 with photojournalist Thorne Anderson. He will lead everyone on the topic of War Through a Lense: Every Picture Tells a Story. With years of experience photographing wars overseas, you can share in his stories and find all about Anderson's experience in Afghanistan and beyond.
Attending Great Conversations gives everyone a chance to pick the minds of their table's hosts over the course of a delicious dinner and decadent dessert. Tickets are $65 and are available for purchase online, and you get to choose which table you sit at, depending on which host and topic appeal to you most. Topics at this year's Great Conversations range from sports to the amazing women of the Wild West. Money raised by tickets purchased benefits UNT's Honor College programming and scholarship funds.
So, what are you waiting for? Buy your tickets and mark your calendar for a night of an enriching exchange of words like no other.