By the time O'Reilly Hospitality broke ground for the Denton Convention Center project on March 21, 2016, convention and meeting dates were already filling the calendar. That's because there is nothing last-minute about the convention business and why the Denton Convention & Visitors Bureau (CVB) and O'Reilly teams were promoting the "coming soon" venue since it was officially announced the year before.
Some four million dollars in convention business impact was already booked when the Denton Convention Center officially opened last December. Meeting planners, like those on the first familiarization tour co-hosted by the CVB and O'Reilly shortly after the 2016 groundbreaking, are planning far ahead. In fact, some of them were shopping locations for conventions with dates as distant as 2024.
More familiarization tours, countless convention site visits and ongoing digital and print campaigns are keeping Denton among the front-running convention bidding cities, especially in Texas. To keep that momentum going, the CVB team decided it is time to implement the next phase in our strategic marketing plan: video.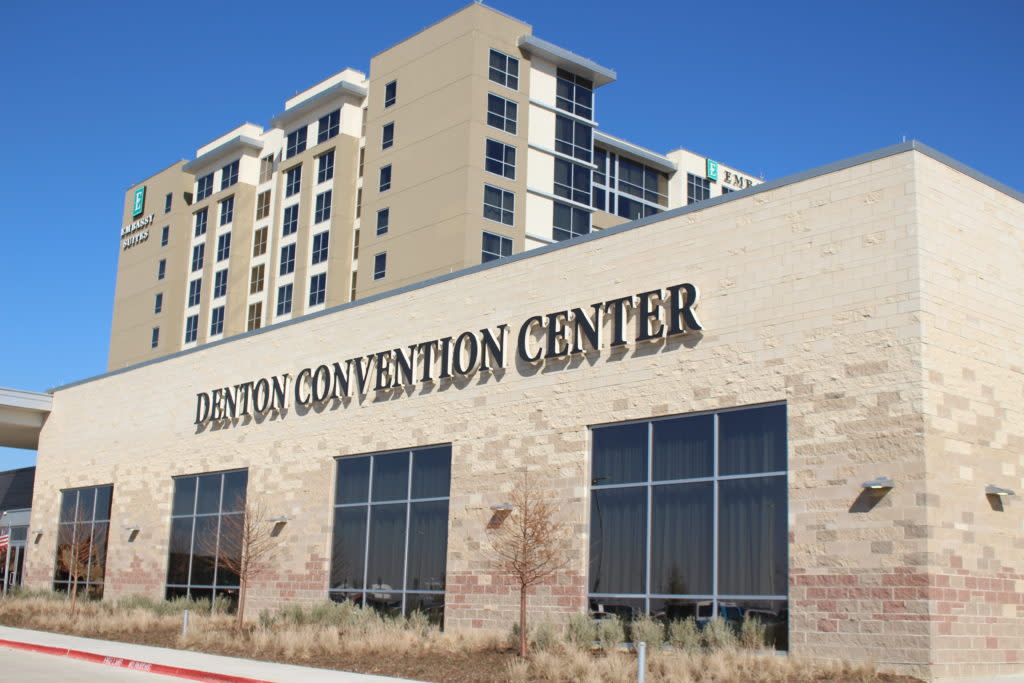 We are keenly aware that meeting planners seek more than just a building in which to hold their event. While the Denton Convention Center wows without fail, it is ultimately the destination as a whole that hooks them. They need the city's amenities and ambience to draw delegate attendance.
We also realize that there is an association and accompanying convention for just about everything under the sun. We wanted to show conventioneers that Denton is a fit regardless of a particular group's interest or focus.
So we set out to convey Denton's sense of place while simultaneously touting the new venue. The result is a fun, upbeat, tongue-in-cheek mini-drama told through a diverse assortment of potential convention delegates.
The new video released last week was a grand undertaking aimed specifically at the convention-planning marketplace, grand because it involved multiple locations, actors, costuming, directing and producing. There were many plot-planning meetings. The weather had to cooperate and many people's schedules had to meld.
We see a doctor in scrubs, convention name badge in place, checking in at a hotel and then on the courthouse lawn with his colleague – both in scrubs, examining x-rays while they rock out at a Twilight Tunes concert. We see a cowboy riding his horse through downtown, window shopping as he goes, and later sipping a beverage at the hotel bar. There are a couple of Red Hat ladies decked to the nines standing along a ranch fence line enjoying the Horse Country. A young kayaker paddles in a hotel pool, and then we see her, kayak in tow, meeting up with friends on LSA's rooftop, the courthouse in the background. A fully outfitted biker enjoys lunch in a restaurant, helmet on and motorcycle parked beside a fancily-appointed table setting and upscale meal.  A marching band contestant in her hotel room puts the finishing touches on her uniform before we see her shopping downtown, brass horn in tow. We even see a construction worker greeting colleagues at a banquet, safety vests and helmets scattered throughout the crowd. We see him again, still in his construction garb, sifting through candy and shopping for goodies in Atomic Candy.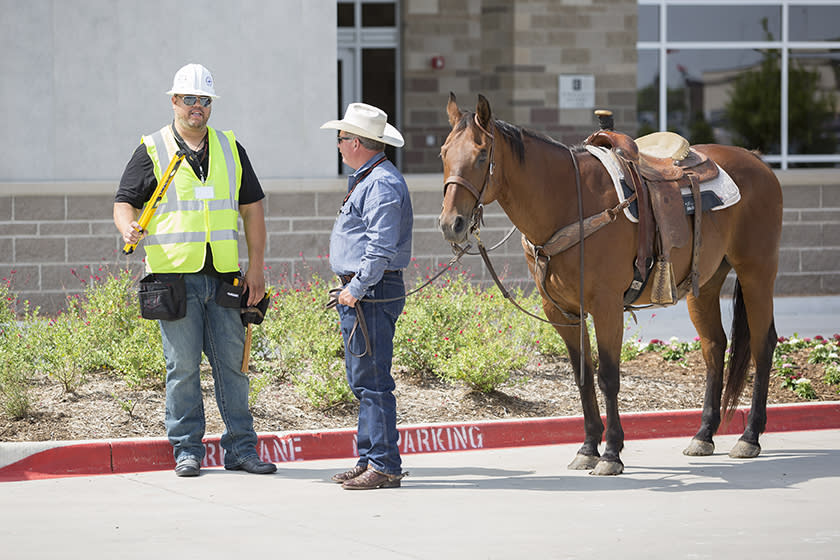 Construction worker Eddie Renz and Cowboy Glenn Carlton (with horse Tex) pause during the shooting of the Meeting Planners Video. (Photo by Tammi Paul)
A shout out to our actors: Eddie Renz, the construction worker; Isabel Deniz, the kayaker; Jason Boder and Travis Veselka, the doctors; Jen Coraluzzi-Nunez, the marching band contestant; Craig Thomas, the biker; Linda Eaddy and Ryann Reid, the Red Hat ladies; Glenn Carlton, the cowboy and his horse Tex.
We owe a big thanks to our partners at the Denton Convention Center, Houlihan's, McCutcheon Reining Ranch, LSA Burger, Atomic Candy, Denton Trading Co, and Twilight Tunes for going with the flow and allowing us to conduct this rather unusual shoot at their locations.
It's a beautiful and funny video that clearly says, "Denton is the place to meet, no matter your hobby or profession," and it's right now reaching hundreds of pre-qualified meeting planners our team has identified as matches for Denton in size, scope and spec requirements. The O'Reilly team is blasting the video to its client lists, too.
We're the new kid on the block in the Texas meetings market, but the honeymoon won't last long. More venues are on North Texas' horizon and marketing memory is short.
While 10 million dollars in economic impact now loads the Convention Center books, filling our venue is an ongoing partnership and commitment. The CVB's new video campaign is one more tool in the arsenal for telling the world that original, independent Denton is the place delegates are ready to discover.
---
View the video: