Veterans Day seems a perfect opportunity to look back on the truly unique contributions and characters from Denton history as a salute to our family and friends who served in the U.S. Armed Services.
Some folks may not realize that Veterans Day was actually the 1938 rebranding of Armistice Day, the holiday commemorating the end of World War I hostilities between the Allies and Germany that went into effect on the eleventh hour of the eleventh day of the eleventh month in 1918. This end of the terrible "Great War" was celebrated "with solemn pride in the heroism of those who died in the country's service" and "because of the opportunity it has given America to show her sympathy with peace and justice in the councils of the nations." When news reached Denton that the war was over, impromptu celebrations erupted all over town. But when local soldiers returned home in 1919, Denton's all-day celebrations included the cancellation of schools, businesses closed for a parade around the downtown Square accompanied by campus bands, fireworks from the Denton Courthouse well into the night, and a few maniac soldiers riding a goshdurned TANK around the dang Square! Boy howdy, Denton has always loved any excuse for a parade!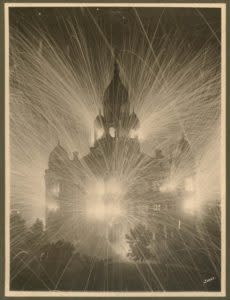 Photo of the Denton Courthouse lit up by fireworks when WWI soldiers returned via Denton County History and Culture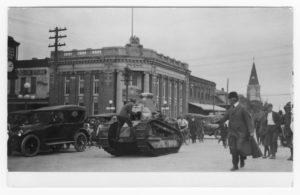 Photo of the tank-riding soldiers via wedentondoit.com
And Denton has a lot of notable veterans whose service to country deserves a sincere THANK YOU from us all, some of whom are still serving their communities in amazing ways! Formerly homeless veteran David Jordan is the owner of Patriot Sandwich Company in Denton, where he started a charity for homeless veterans called "We Got Your 6." As David told VoyageDallas: "I was lucky enough to have a family member help me out and brought me out here from Kentucky and helped me get back on my feet. Well, August of that year, I helped start a charity for homeless veterans. We Got Your Six was created 8-12-15, to help homeless veterans or those at risk of becoming homeless. But we don't get government funding or financing, so I created Patriot Sandwich Company to be a revenue source for We Got Your Six." His sandwich shop is itself a star-spangled patriotic salute to all five branches of the military, with generations-spanning memorabilia and tables with themed shadowboxes. What a tasty way to support our veterans and Jordan's noble cause!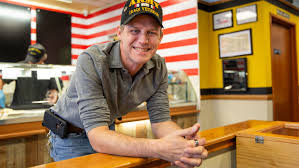 David Jordan of Patriot Sandwich Company via Dallas Morning News
Another worthy local charity is Serve Denton, whose co-founder and CEO Pat Smith is a familiar smiling face in our community. A retired Colonel in the US Air Force, Pat has been a beloved crusader in Denton's nonprofit service ecosystem for years. At its essence, the Serve Denton Center was built to be a one-stop shop for 23 nonprofit partnerships that helps make their social services more accessible to people in need. Pat's story is pretty amazing, as son of legendary locals behind iconic pots like Jim's Diner and Rose's Costumes, and you can hear more in this great interview with Glen Farris. Pat's mom Judy also has a really cool Veterans Day spin on the Chairy Orchard that you can visit!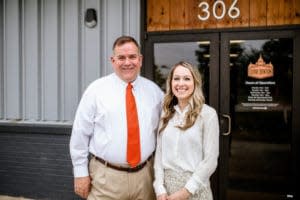 Pat Smith, founder of Serve Denton, with Carlie Kuban, Chief Administrative Officer.
In addition to the great work by Denton VFW Post 2205, the Denton chapter of Women Veterans of America was chartered in 2017 to offer support and camaraderie. And I'd be remiss if I didn't remind everyone about TWU's amazing exhibits and collections in their WASP archives via the Blagg-Huey Library!
If you're still reading, then I'll assume you might be interested in a few notable veterans from Denton's history that make for some wild stories to share around the campfire!
USAF LTG Roger Maxwell Ramey is another native son who had a remarkably wild service career. Born and raised in Denton, Ramey joined the Texas National Guard but by 1924 secured an appointment to West Point and began his rise through the ranks as an aviator and flight instructor. By December 1941, Ramey was Operations Officer of the 18th Bomb Wing at Hickam Field during the Japanese surprise attack on nearby Pearl Harbor. He was awarded a special commendation for valorous actions to save aircraft while enemy planes strafed and bombed hangars, airplanes, and personnel. His successful wartime ops as a Brigadier General led to an Army Distinguished Service Medal and a Distinguished Service Cross for bravery, and by 1946 he was temporary Commander of Task Group 1.5, the Army Air Forces unit responsible for dropping the ABLE bomb (nicknamed 'Gilda' and bearing the likeness of Rita Hayworth) during Operation Crossroads; the code name for the atomic bomb tests at Bikini Atoll in the Marshall Islands. When Brig. Gen. Ramey assumed command of the Eighth Air Force in January 1947, little did he know that he would become a central figure in what came to be known as "The Roswell UFO Incident" a few months later on July 8th. It was Ramey who officially disputed the 'alien flying saucer' claims with a press conference explaining the wreckage was in fact a radar-tracking weather balloon, which 30 years later would morph into a UFO cover-up conspiracy theory when other witnesses gave conflicting accounts of those events in Roswell. Ramey retired from the Air Force after a heart attack in 1956, and held several civilian posts before his death in 1963. He is buried in Roselawn Memorial Park.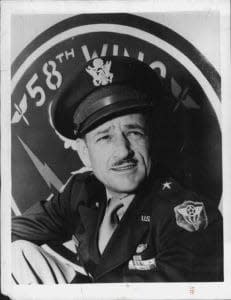 Brig. General Roger Ramey via Mike Cochran
As a bonus, here is an as-yet unidentified serviceman standing in front of Col. Carl Storrie's B-29 Superfortress "The City of Denton," possibly of the 314th Bombardment Wing he commanded in the 20th Air Force during WWII, courtesy of local historian Mike Cochran. Thanks to feedback from the Storrie family, we know Carl's command of the 29th Bomb Group may have inspired the naming of this B-29 after his hometown. The Storrie boys eventually returned to their hometown around 1945. Boy, but ain't this photo glorious, tho?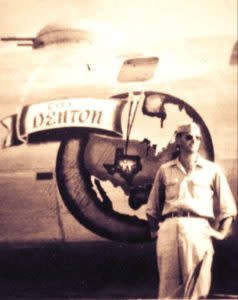 I could keep going with stories about the brash tank commander Lieutenant General James F. Hollingsworth, who served under General Patton and became a legend in Vietnam, and the Navy veteran Noble Holland, an African-American community leader who returned home to become a positive force in our Southeast Denton communities.  
To all those who have served and are serving still, Denton offers our enthusiastic THANK YOU and hope your stories continue to inspire us to give back in gratitude in our community!