This coming Friday evening from 5-7 p.m. at Dan's Silver Leaf is a big night we've worked toward for the past two years. Texas Music Office director Brendon Anthony will officially present Denton with our Music Friendly Community certification, and we're going to celebrate.
The City of Denton, the Denton Music and Arts Collaborative (DMAC), and the Denton Convention & Visitors Bureau (CVB) are partnering to host the event, which is free and open to the public. DMAC also recently brought in Hoochies Oyster House, who is making sure it's a celebration by underwriting live music and providing complimentary hors d'oeuvres. There will also be a cash bar.
For the past couple of weeks, this column has honed in on why the Music Friendly Community designation is important to Denton and exactly what has gone into attaining it. This is a long-term plan to build on our city's music and creative economies, assets that would not exist at all without artists. These are the people among us making their art, writing their songs, playing their music and providing the expertise to deliver to the masses. The bottom line commitment, then, is providing a nurturing environment to help them succeed.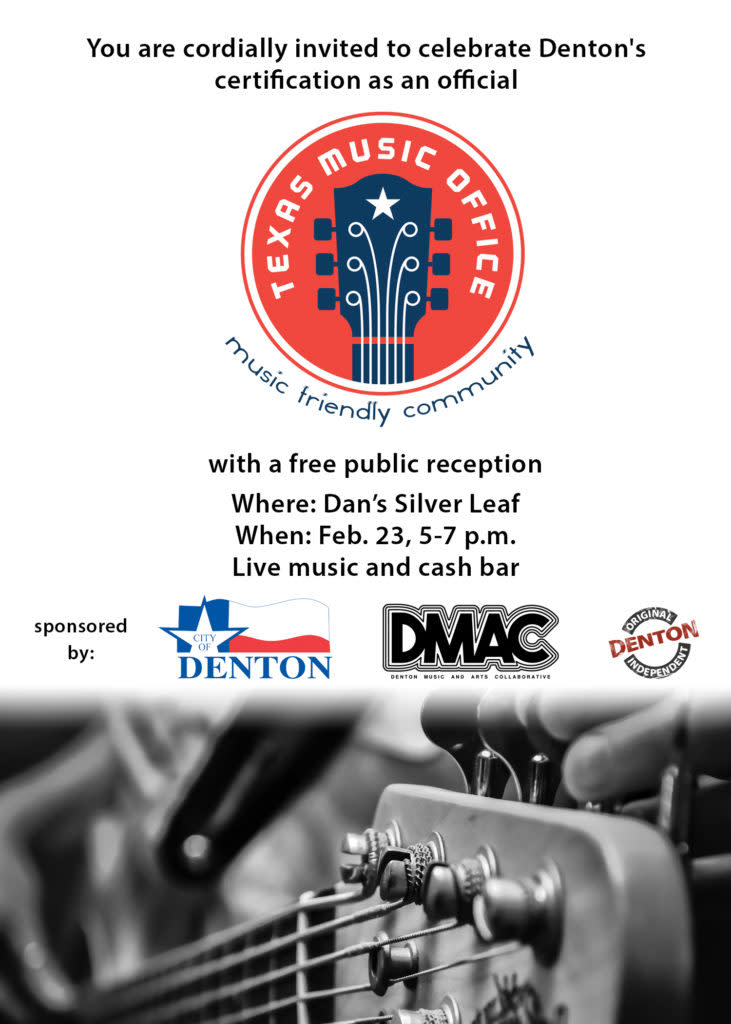 Last week we looked at DMAC, the recently-formed 501(c)(3) non-profit organization based in Denton established to support artists (defined as earning 51 percent or more of their livelihood with their art) with basic needs like health insurance. In just their first year of existence, DMAC is already working with 15 local artists, validation that the needs are real.
"It's not that musicians and artists are living hand-to-mouth that's the issue," explained Nic Bagherpour, one of DMAC's founders. "But they don't have a paycheck that lands in their bank account every two weeks. Their income is based on gigs and shows."
"And musicians can't rehearse two nights a week, play weekend shows and hold down a regular full-time job, especially when they are typically playing in multiple bands. That is their job," added Aubrey Mortenson, DMAC Outreach Director.
Nic and Aubrey are two of the seven-member board of directors leading DMAC's mission into significant action, and I think it's important to meet these people. When you see them out and about, say thanks.
Nic Bagherpour, President Andy Knapik, Vice President Matt Mars, Treasurer Wallace Campbell, Public Relations Director Aubrey Mortenson, Outreach Director Andy Folmer, Operations Director KJ Jones, Secretary
To Nic's point, the need among Denton artists coupled with our community's high value placed on the arts as integral to our quality of life means the potential for exponential impact on DMAC. To be in front of such growth, DMAC leaders are expanding board and volunteer opportunities. All that's required to join is the desire to add your own talent and skill to the widening pool of givers dedicated to sustaining a strong and healthy creative economy in Denton. While money makes the music world go round like in every other industry, it takes people promoting awareness and building infrastructure to keep that money flowing in the right direction.
Sometimes, it's as simple as who you know.
Hoochies Oyster House came on board with a simple ask.
RTB2 performs in this undated photo. They will be the entertainment at the Texas Music Friendly Community celebration on Friday.
If you know anything about Hoochies, you know that former city councilmember Joey Hawkins is one of its co-owners. Joey and his wife Amy also own Royals Bagels and their first Denton business pursuit, Jupiter House. Since the infamous December 26 fire that destroyed the Downtown Mini Mall on the Denton Square with whom Jupiter House shared its north wall, the coffee shop has not reopened, as yet unable to recover from the fire and water damage their building sustained.
Joey and his family have suffered these past weeks alongside all of those affected by the horrendous four-alarm fire. I was curious what moved Joey to get involved in an outreach like DMAC at such a traumatic time in his own business and personal life.
"Denton is a cool and funky place," Joey said. "But there are a lot of places that can make that claim. What really sets Denton apart is the people. Denton has been there for us, and we'll be there for Denton."
Joey said DMAC approached Hoochies co-owner and manager Sam Solomon about joining the Music Friendly Community celebration, and Sam didn't hesitate. "We know that without efforts like DMAC's, Denton's music scene won't always exist like it does now," Joey said. "We're trying to help preserve something."
Joey's comments embody the altruistic spirit of DMAC and the many people working toward maintaining our original, independent sense of place in Denton's future. The Music Friendly Community designation is one giant step, and this Friday celebrates the power of what pulling together in the same direction can do for Denton.