In Aug. 2012, the Denton Airport experienced the one millionth operation, takeoff or landing of an aircraft, as counted by the air traffic controllers for Robinson Aviation (RVA) Inc., the Federal Aviation Administration (FAA) contract operator for the Denton Airport Tower. RVA has provided this service at Denton Airport since the Denton Tower opened in April 2004, with 77,040 takeoffs or landings counted within the first twelve (12) months of operation.  Since that time, flight operations have increased significantly at Denton Airport, with 156,453 takeoffs or landings counted within the last twelve (12) months.
The one million operations milestone was celebrated on Monday, August 27, with an awards ceremony at the Denton Airport, with citizens and Airport stakeholders in attendance. Coincidentally, the very first takeoff counted by air traffic control at Denton Airport was a flight piloted by Rick Woolfolk, now a Lieutenant Colonel with the Civil Air Patrol, and Councilmember Pete Kamp was his passenger.  Mr. Woolfolk landed his airplane and was  celebrated as the one millionth operation at Denton Airport during the awards ceremony.
Over the past eight years, Denton Airport has grown with over $27 million of public infrastructure improvements and even more private investment in aviation business and industry.  The FAA identifies Denton Airport as the eighth (8th) busiest airport in the State of Texas, with Love Field number six and D/FW Airport number one.
Since opening in 2004, the Tower has increased daily operating hours to sixteen in October 2010 and added Radar display to improve safety and service in November 2010. The Airport received the Reliever Airport of the Year award from the Texas Department of Transportation Aviation Division in 2010.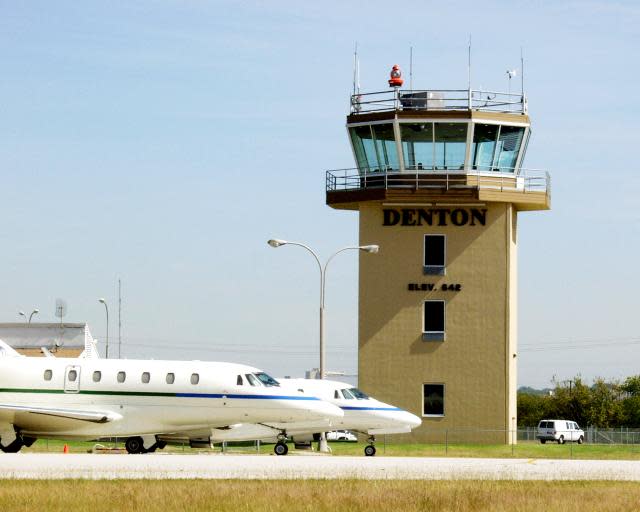 For additional information on this story contact John Cabrales Jr., Public Information/Intergovernmental Relations Officer at 940-349-8509 or john.cabrales@cityofdenton.com.
For other news items on the City of Denton, visit www.cityofdenton.com, go to Quick Links and click on Press Releases.