The annual AT&T Red River Rivalry football game between the University of Texas and the University of Oklahoma is this weekend and DCTA is going to help get you there in time for kick off. To help with game day travel, DCTA will run a special event train departing in time for passengers to connect to DART's Green Line and arrive to the State Fair of Texas approximately three hours before kickoff. DART will be adding light rail trains and buses in preparation of meeting the demand on game day. DCTA and DART will also have shuttle buses at Trinity Mills Station to help avoid crowding on the Green Line trains.
The special game day A-train will depart the DDTC at 7:25, stop at all A-train stations and arrive at Trinity Mills Station for the 8:02AM Green Line Departure to the MLK Station. When departing the fair on game day, passengers must board the Green Line at the MLK Station for access to the Trinity Mills Station. Trains serving the Fair Park Station will not provide an A-train connection this Saturday. Passengers are encouraged to plan their trip home to ensure a smooth game day experience. To catch the last northbound A-train departure from Trinity Mills, passengers must board the 11:38PM Green Line departure from MLK Station.
Helpful Tips for a Smooth Game Day Experience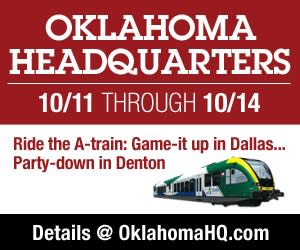 Denton passengers are encouraged to park at the MedPark Station as it has a higher parking capacity than the Downtown Denton Transit Center.
Lewisville passengers are encouraged to park at Old Town or Hebron as these stations have a higher parking capacity

Passengers traveling to the game via DCTA and DART should arrive at the station 10 - 15 minutes prior to departure

Regional fare media is required for a trip that includes DCTA and DART. A regional Day Pass is $10 and is valid on DCTA and DART. These passes can be purchased from ticket vending machines located on all A-train station platforms. For your convenience, ticket vending machines accept cash and credit cards (Visa, MC, Discover)

Reduced Regional Day Passes are $2 and available for Seniors (65+), disabled, Medicare cardholders and students (Ages 5-18, students over the age of 14 require a valid high school or DCTA issued ID)

Plan your trip home and ensure you catch a Green Line connection from the MLK station that will allow you to connect with the last northbound A-train departure from Trinity Mills.

Be patient, allow plenty of time, have fun and be safe.
Special A-train TO the TX-OU Game/State Fair of Texas
DCTA's regular Saturday service will resume with the first Southbound train departing Denton at 10:15 a.m. While those trips will not get you to the game, they will get you to the fair to enjoy the other festivities.
LAST A-train Connection FROM the State Fair of Texas
For more information regarding travel during the TX-OU game or the State Fair of Texas, please visit DCTA's State Fair of Texas Travel Guide
http://www.dcta.net/news-events/state-fair-information/menu-id-59.html or call DCTA Customer Service at 940-243-0077.