Just a year has passed since Denton celebrated the launch of rail service that helped commuters connect with communities within the county and DFW.  Now the Denton County Transportation Authority has reason to celebrate a few more milestones – the integration of the Stadler GTW rail vehicles and the initiation of mid-day rail service.
The new 11 diesel-electric GTW 2/6 articulated rail vehicles from Stadler and the more robust rail schedule are definitely reason to celebrate.   DCTA has extended an invitation to the entire community to join them in a bash honoring their growth.
The community-wide celebration will be held on Saturday, August 18, 2012 at the Downtown Denton Transit Center from 11:00 a.m. to 2:00 p.m. The transit center is located at 604 East Hickory Street, just a few blocks east of Denton's downtown historic square. A formal presentation will begin at 11:20 followed by live music, free hot dogs and ice cream, and model train exhibits. Rail service on the A-train will be free with additional special event service provided between 11:30 a.m. and 2:00 p.m. At 2:00 p.m. DCTA will resume regular Saturday service.
Let DCTA know you plan to attend via their Facebook page event.
EVENT AGENDA  Saturday, August 18, 2012 11 a.m. - 2 p.m. Downtown Denton Transit Center (DDTC) 604 E. Hickory Street, Denton
11:00 a.m. - 2:00 p.m. Free A-train service (special event rail schedule coming soon) Model Train Exhibit inside the DDTC (provided by Denton Area Model Railroad Club) 11:00 a.m. - 11:15 a.m. Live Music (provided by The Pause Trophey) 11:20 p.m. - 11:45 a.m. Formal Presentation 11:45 a.m. - 2:00 p.m. Live Music (provided by The Pause Trophey) Free hot dogs, brauts and ice cream (sponsored by Stadler Rail)
ENTERTAINMENT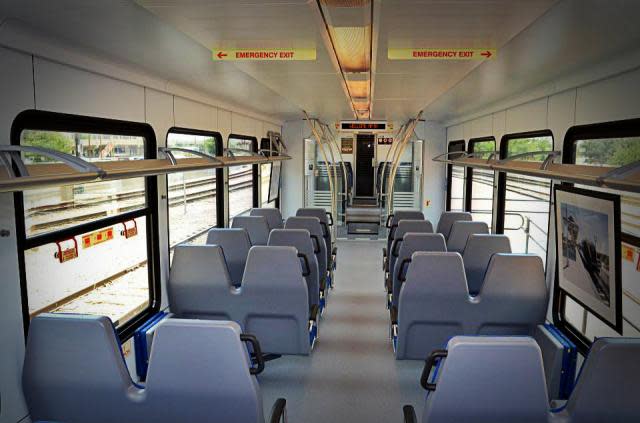 Live Music: Enjoy the sounds of The Pause Trophy during the event. Band members Droo D'Anna, Jim O'Grady and Jose Yllana play a variety of family-friendly cover songs you will be able to sing and even dance to. Model Trains: Stop inside the DDTC to take view the Denton Area Model Railroad Club's model train exhibit. Free Food: We'll have free hot dogs and brauts to fill you up and ice cream to cool you down!
PARKING & TRANSPORTATION Event attendees should note there is limited parking available at the DDTC and are strongly encouraged to take advantage of the free special event service on Connect and the A-train. Passengers can take any Denton Connect bus route to the DDTC or take the A-train by parking at other stations served by the A-train; MedPark, Highland Village/Lewisville Lake, Old Town, Hebron or DART's Trinity Mills Station. Click here for station locations. There is a small number of parking spots available in the lot directly north of the DDTC clock tower (along Rail Road Ave.) and in a lot one block east of the DDTC at 121 Exposition (Exposition and Hickory).