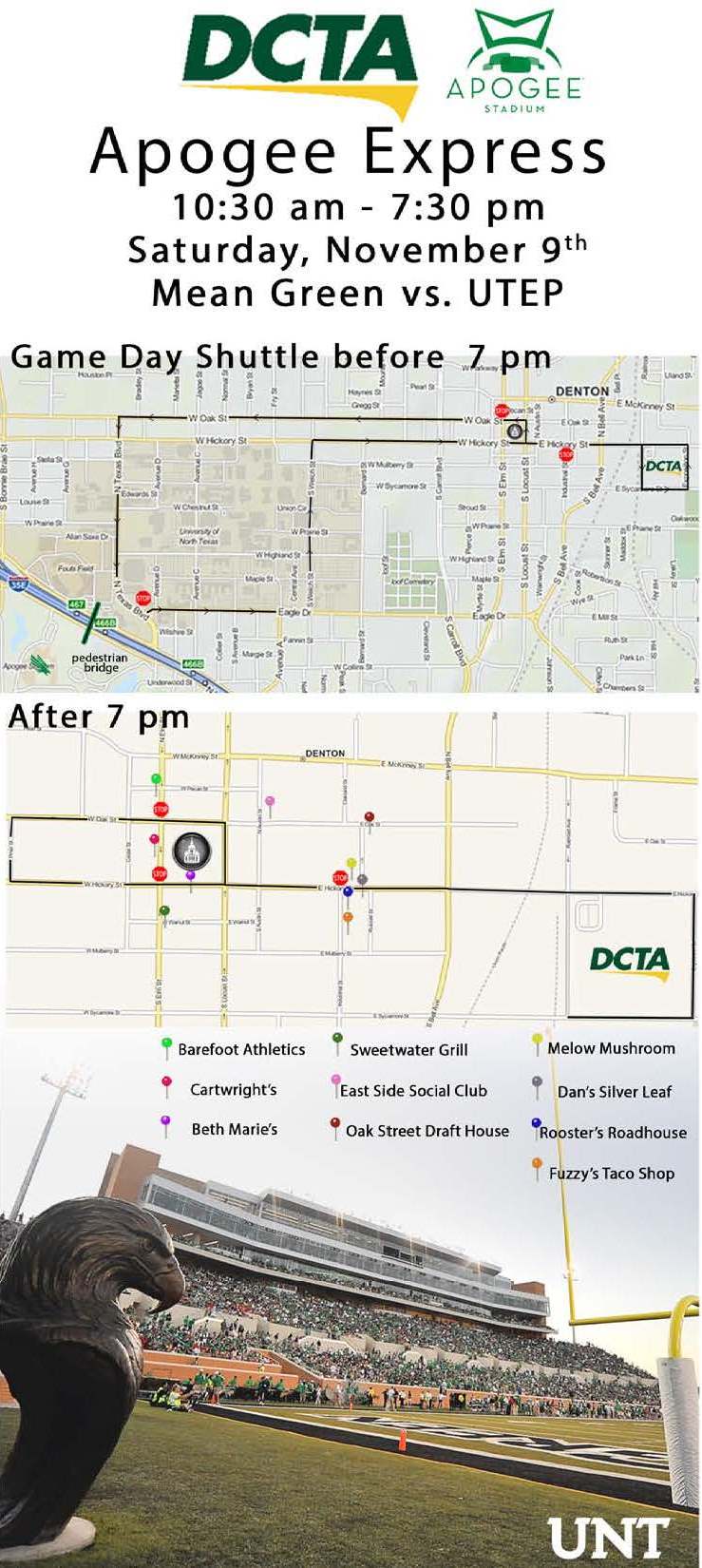 Well into the football season, the weather finally matches the calendar and you still haven't been to the Apogee Stadium to watch the Mean Green?  You may have missed a lot of Action!  From Scrappy's Conference USA showdowns to big wins against Southern Miss and Rice, becoming Bowl Eligible, and big mentions like Brelan Chancelor being named Conference USA's Special Teams Player of the Week. It's a great time to be a North Texas fan!
If you're an alum and have not kept up with your alma mater, you may be feeling a tad bit guilty right now. Thankfully, you have a chance to pull out your fave Mean Green shirt and get in the Mean Green spirit just in time to catch a ride for Homecoming.
Once again, the University of North Texas Athletic Department and the Denton County Transportation Authority are partnering together for a special "Get Your Green On" promotion in conjunction with this weekend's homecoming football game versus UTEP.  All fans and passengers wearing "Mean Green" colors or apparel can ride DCTA services FREE of charge.
The free services DCTA is offering include the A-train as well as a special shuttle from downtown to the base of the highway pedestrian bridge by Fouts Field. The shuttle service will run from 10:30 am until the 7pm.  DCTA coordinated return service to downtown and the Downtown Denton Train Center to catch the A-train following the game.
"This is just another way that we want to create an economic impact in Denton on game days" said Rick Villarreal, the North Texas Director of Athletics. "We really appreciate DCTA , UNT Parking Services and our great business partners downtown working with us on this initiative. It's the second time this season that we have tried it, and we hope to build on the idea in the future."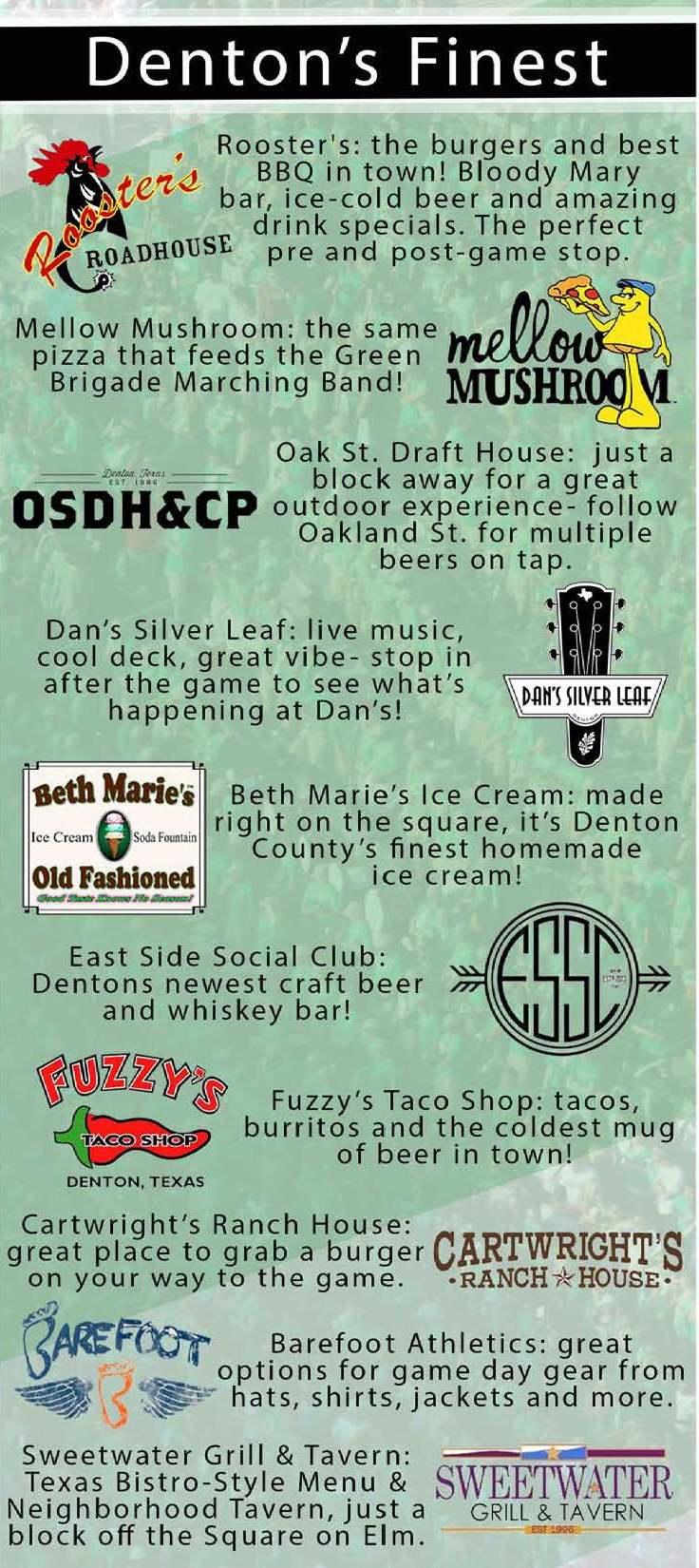 "If you have not been to a North Texas game at Apogee yet, and maybe haven't been to our downtown area in recent years, what a great way to see all the positive changes," said Villarreal. "Denton is a really large college town and the advances made in our downtown in recent years have certainly added to the choices you have on a game day. We want you on property and tailgating, but making a stop downtown for food and entertainment is also a great option before or after the games. This partnership offers those choices."
Downtown Denton will be busy on Saturday with the homecoming parade at 9am and Holiday Open Houses all around the square afterwards.  Take advantage of this promotion and enjoy a vibrant and growing Downtown Square and adjacent area.  Then catch the shuttle in time for the 2:30pm kick-off. Make it a GREEN day!
______________________________________________
Tickets to the game can be purchased in advanced online at MeanGreenSports.com or by calling the Athletic Ticket Office at 1-800-UNT-2366 or on game day at the Gate 3 entrance which is a short walk from the highway pedestrian bridge. The game kicks off at 2:30pm at Apogee Stadium.  Additional information regarding North Texas Football and the game day fan experience can be found at Mean Green Sports.com click on Football Gameday.
______________________________________________
Denton's Finest
[directory taxonomy=vendor_category terms=apogee-express-merchants limit=10 ]