A lot can happen in under 15 minutes. The shorts of Denton Black Film Festival prove that a film doesn't need a long runtime to capture an audience or tell an engaging story. "Life," "Don't Drink the Water" and "I Got a Call Back" may not be similar in plot, but each is engaging, entertaining and a solid showcase for the short filmmaking talent on display at this year's fest.
But the similarities don't stop there. Each film covers a different facet of being human -- one covers coming of age in a pressure-filled and confusing time, one tells a funny family story, and the last turns the tables on one of society's biggest conversations: the Me Too movement. Best of all, each film leaves the audience feeling hopeful.
"Life!"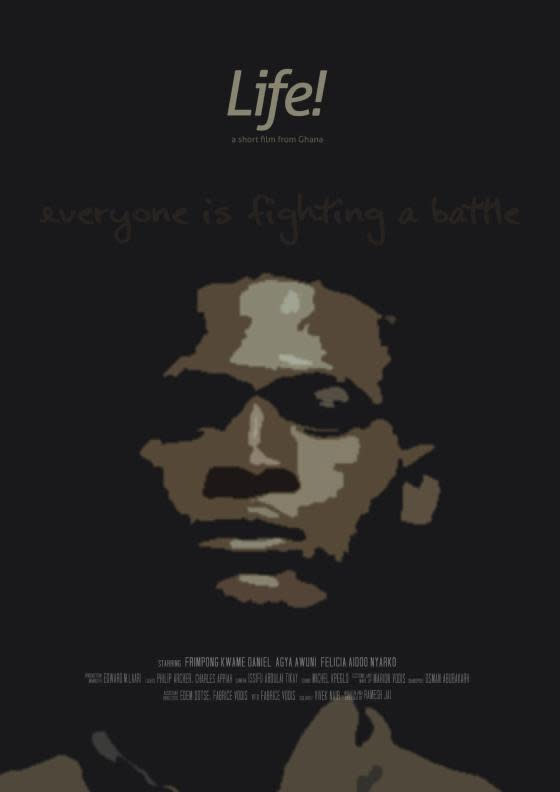 "Life!" enters the struggling mind of Kweku, a young Ghanaian man feeling the pressure to succeed, to become something. Director Ramesh Jai wanted to, "highlight the mental and physical trauma that people silently suffer throughout their lives just to measure up to other people's expectations." And that it does. The camera flows through Kweku's interactions with his parents, his girlfriend, and job recruiters -- each of whom critique him and his seeming inability to succeed.
Kweku doesn't speak a word in the short film -- a deft trick the director pulls to highlight how our protagonist has been silenced by the cruelty his native Ghanaians throw in his face. The short's minimal dialogue and emphasis on sound and score builds suspense, often filling the reader with a sense that something monumental is around the corner. And it is.
The score rises in volume and tempo as Kweku continues to endure cruelty and rejection. Then, in the film's final 20 seconds, it all comes to a screeching halt. Kweku is left alone, sitting in silence and darkness, leaving Kweku in silence and in darkness. But it's now what he expected. It won't be what you expect, either.
---
"Don't Drink the Water"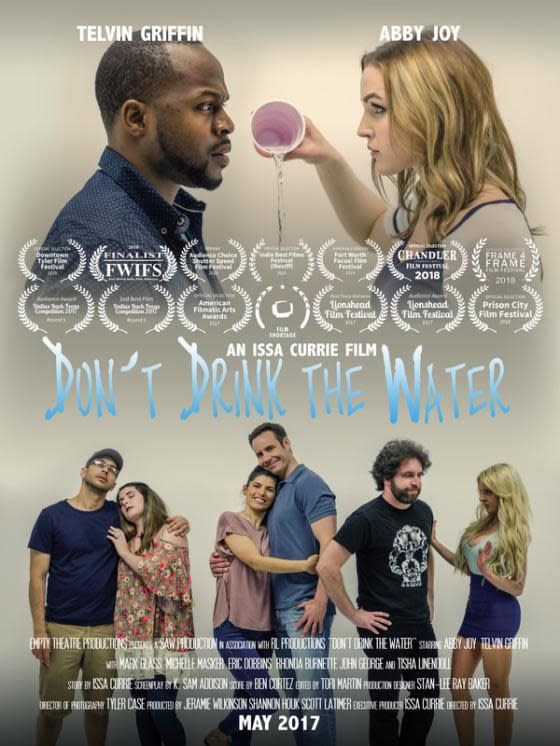 "Don't Drink the Water" offers Denton Black Film Festival goers a modern, and very relatable, take on the romantic comedy -- with an edgy twist. Directed by Frisco native Issa Currie, "Don't Drink the Water" dark humor and gravely serious subject matter as couple Molly and Danny navigate through the ups, downs and miscommunications of family planning.
In the beginning, Molly is awoken from a nightmare by her partner Danny, who is excitedly gripping a pregnancy test. We follow Molly and Danny to a barbecue with friends and family, who also happen to be parents themselves. Molly, hesitant about her baby and her future, is flooded with a slew of loaded questions. As the tension builds, we learn there's something much larger at play: something's happening with the water, and Danny is about to drink it.
The cinematography throughout "Don't Drink the Water" is impressive, as is Currie's camera direction. Although categorized as a romantic comedy, the film lacks the fluffy, cutesy kitsch viewers typically associate with the genre. Instead, you get something you don't quite expect: an interesting genre crossover that will appeal to fans of romance, comedy, drama and even horror.
---
"I Got A Call Back"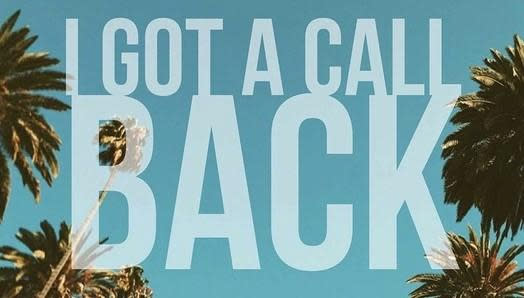 Screenwriter Staxx Cordero and Producer Lester Greene's "I Got A Call Back" turns the tables on the culturally and socially relevant Me Too movement. Cordero's screenplay bounces along with well-crafted comedic flourishes, while still addressing the severity of this seminal movement.
Viewers are immediately put in main character James' shoes. James, an actor, gets a call back, but his great news is soon sullied when the casting director, an older woman, behaves inappropriately. James weighs his options with his friends, who offer much-needed and well-done comedic relief. Ultimately, our hero makes a choice and makes a statement. In a searing final monologue, he addresses the struggles women have faced in the same positions, and laments that they have not received the same treatment nor enjoyed the privilege of options like James.
While often hilarious, Staxx's screenplay hits close to home and asks the hard questions. The film turns the tables on the audience and the Me Too movement, and offers a well-made reflection on privilege. When you see it -- and you should -- the film will keep you and your friends talking for hours. That's by design: How can we move forward without having the hard discussions?
---
Life is a narrative short and runs 4 minutes. Don't Drink the Water is a narrative short and runs 11 minutes. I Got a Callback is a documentary short and runs 14 minutes.
All will be shown Saturday, January 26 at 6:15 p.m. during the Narrative and Documentary Shorts block as part of Denton Black Film Festival. This screening will be shown at the Campus Theatre, 214 W Hickory St. To purchase tickets at the online box office, click here.