La Vie Magnifique de Charlie is a glimpse into a day in the titular life of Charlie, an independent, free-spirited 20-something woman living in Atlanta. When Charlie's sister Brandy dies due to complications of a genetic disease, Charlie takes her absence in stride—she returns to work, helps friends and family members with various tasks, and goes out on the town. After a strange turn of events, however, Charlie is thrust into a bizarre scavenger hunt that forces her to look more deeply at her life, her relationships, and herself.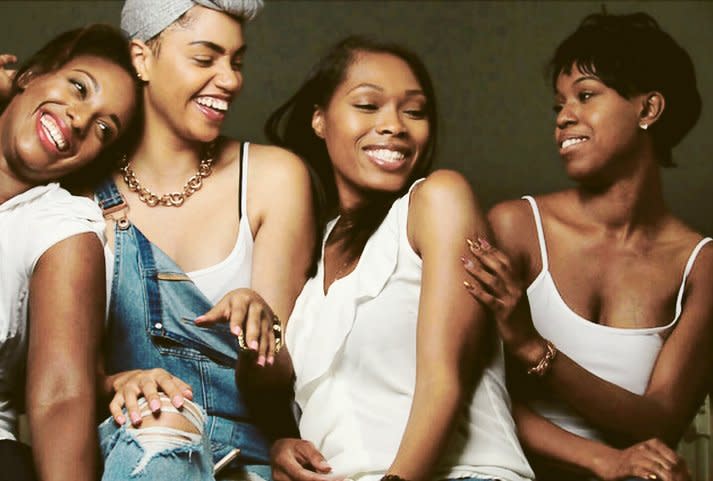 (left to right) Nikki Lashae, Kortnee Price, Ashley S. Evans, Lailaa Brookings. (Photo from the film's website by Buckhead Studio Photography)
Although La Vie Magnifique de Charlie is undeniably funny, quick-witted, and charming, the film often takes up the unique—and often difficult—lived experiences of its characters. Charlie's mother Solé is aloof and silent for much of her childhood, leaving Charlie's grandmother Nana Liza to care for her. The viewer quickly discovers that Chuckie, Charlie's father, left Solé early on in her pregnancy in search of a less "worldly" partner. After enduring the deaths of several family members over the years, Charlie loses her sister and confidant Brandy to sickle-cell disease. Charlie's striking composure and confidence are tested in the film's climax, where Charlie is suddenly—literally—thrust into the spotlight and made vulnerable.
Director and co-writer Bobby Huntley describes the film as a "love letter for black women." Indeed, La Vie Magnifique de Charlie addresses many of the spoken and unspoken expectations placed upon American black women: coolness under pressure, poise and confidence at all costs, and endless reserves of emotional strength. The film holds up black women's friendships and relationships as a balm for these expectations. While Charlie attempts to process her grief, her friends Kayla and Keturah offer their advice and support from completely opposite ends of the emotional spectrum. Kayla, a stylist who owns her own salon, urges Charlie to take time for herself, while Keturah—also known as Pandakitty, the webcam star and self-made relationship therapist—opts for a more direct approach. The two friends' efforts, though wildly different, help Charlie find the courage to come to terms with her sister's passing.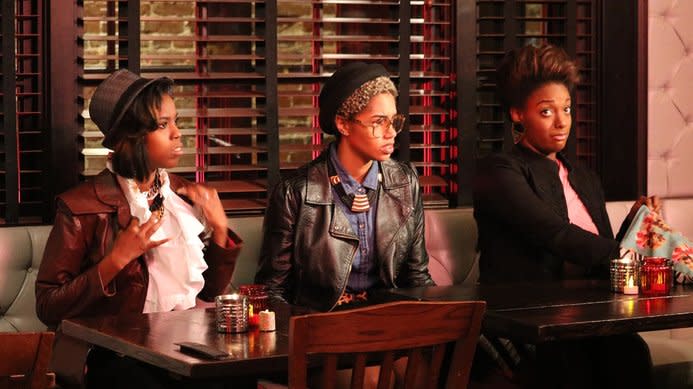 Still from La Vie Magnifique de Charlie's website
Despite themes of loss and pain, La Vie Magnifique de Charlie is ultimately a lively (and often hilarious) film. The movie masterfully blends tropes of French filmmaking (including a French narrator and quirky plot structure) with Charlie's decidedly American life in Atlanta. Even though Charlie's educational background is in fine art and her appearance is edgy and chic, her life unravels in all-too-real ways. In one scene, Charlie borrows a neighbor boy's bike to chase down a man who has mugged her, trading the romantic cliché of cycling in Paris for a much funnier image. During another scene, Keturah's webcam show quickly moves from satin robes and seductive elegance to "party tricks" that send Charlie running out of the room. At every turn, the film is invested in the absurdity of real life. La Vie Magnifique de Charlie is also quite visually stunning, shot largely in bold neon color palettes that the filmmakers attribute to "the early films of Spike Lee, Madonna, and Prince."
Not all comedy-dramas manage to combine heart and humor in convincing ways, but La Vie Magnifique de Charlie is equal parts both. Although Charlie's journey to self-love and acceptance is perhaps more whimsical than most, viewers will appreciate the film's magic. To get in the faux-Parisian spirit, enjoy a glass of wine from Wine Squared or coffee and pastries from West Oak Coffee Bar before the film.
---
La Vie Magnifique de Charlie runs 87 minutes and will be shown Saturday, January 27 at 6:30 p.m. with short film Senior Night as part of Denton Black Film Festival. To purchase tickets at the online box office, click here.