The titular anti-hero of "Bruce" has a problem. Actually, Bruce has a lot of problems -- most of them stemming from his own self-destructive and narcissistic tendencies. It's up to the viewer to sit with bated breath, wondering how the protagonist of this dark comedy will ever work things out. By contrast, the primary creator of "Bruce" Eden Marryshow is a quadruple-threat creative powerhouse. Marryshow didn't just play Bruce -- he also directed, wrote, and co-produced the film on a shoestring budget of less than $3,000. But the scant funds were no challenge for Marryshow, who worked in the education sector in Flatbush, N.Y., prior to becoming a filmmaker. In an interview with Shadow and Act, Marryshow said of the film, "I really just wanted to make a movie with my friends, something that they could shine in that was inclusive of what my life really looked like. I was trying to make an indie movie." By all accounts, he has succeeded.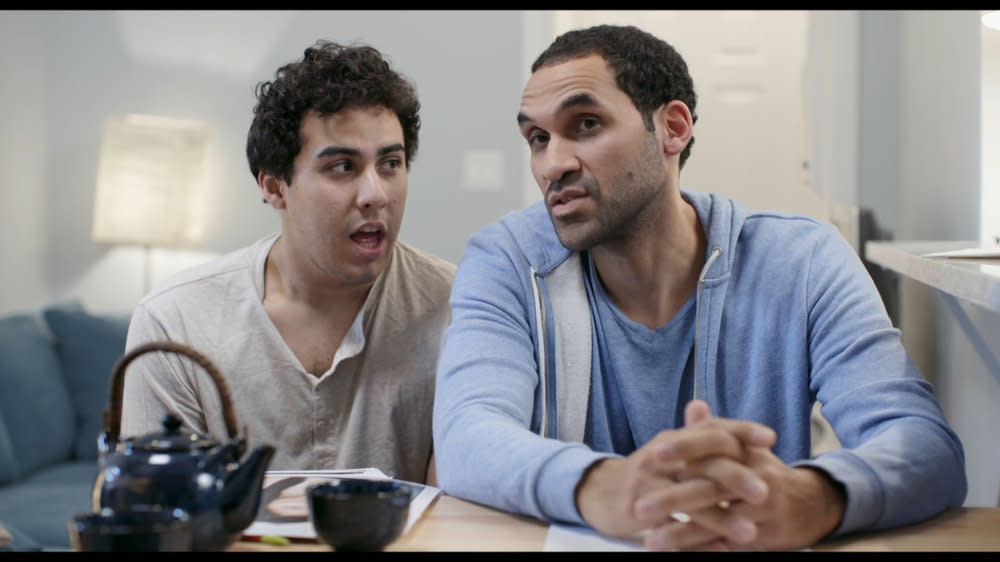 A still from the movie "Bruce"
We learn quickly that Bruce is a trust fund baby gone bad. From the film's outset, Bruce is scamming everyone who crosses his path: his jilted girlfriend, his employers, and the clients of his dog-walking business. In one early scene, Bruce is walking the dog -- in the sense that he's walking while carrying the pooch, preventing it from doing its canine duties. Bruce even cons his own mother into giving him rent money, only to spend it dancing and drinking the same night away with a friend and a couple of prospective love interests. Things start looking a little dicey for Bruce when his roommate and best friend, Greg, announces that he's moving out, leaving Bruce to his own devices. When Bruce's beautiful and talented new roommate Keira comes on the scene, things start to shift. Keira has an innate ability to get Bruce to be himself and strip the showboating, self-absorbed playboy facade. But Bruce runs into trouble when his hubris threatens to overtake Keira's affection. Our anti-hero is enters a serious downward spiral of failure, self-loathing, and depression that threatens to swallow him whole. "Bruce" is dark comedy at its darkest, often straying into dark territory that may be jarring for some viewers. But thanks to the searing performances of his talented cast, and Marryshow's own adept and compelling performance in the title role, "Bruce" ultimately finds a sublime balance of humor and venom. The film also makes great use of limited set and location resources, shot masterfully on a Sony a7S camera by a crew of three. And when Bruce is finally worn down by the consequences of his actions, the film's climax provides some truly great catharsis--the kind that is hard-won only by a long string of painful and egregious screwups. Though "Bruce" could easily be lumped into the bad-boy-makes-good genre of films, this project is more carefully wrought than most titles in that category. Despite moments of bleakness, Marryshow's labor of love is surprisingly challenging and heartfelt. And when it comes down to it, Bruce is something of an everyman. Haven't we all known, loved, and forgiven a Bruce?
---
Bruce is a narrative feature and runs 103 minutes and will be shown Saturday, January 26 at 2 p.m. as part of Denton Black Film Festival. This screening will be shown at the Alamo Drafthouse, 3220 Town Center Trail. To purchase tickets at the online box office, click here.