"Black, White & Us" is as interesting as its director's name. Made by Loki Mulholland (who directed An Uncomfortable Truth, the Best Documentary Feature winner at the 2018 Denton Black Film Festival), the film deftly explores racism through the lens of transracial adoptions in Utah.
A transracial adoption is best defined as when parents decide to adopt a child whose race is different than their own. In most situations, these means white families adopting African-American children. Statistically, Utah is the leading state form transracial adoption. The title refers to the feeling that these families feel after adoption -- the feeling that they are not a black or a white family, but something beyond the boundaries of what society expects or is accustomed. In the film, Dr. Darron Smith voices his belief that this group of families could potentially have a powerful voice in movements in America because of their unique experience. With Mulholland at the helm telling these searing, personal stories, it's easy to see that prediction coming true.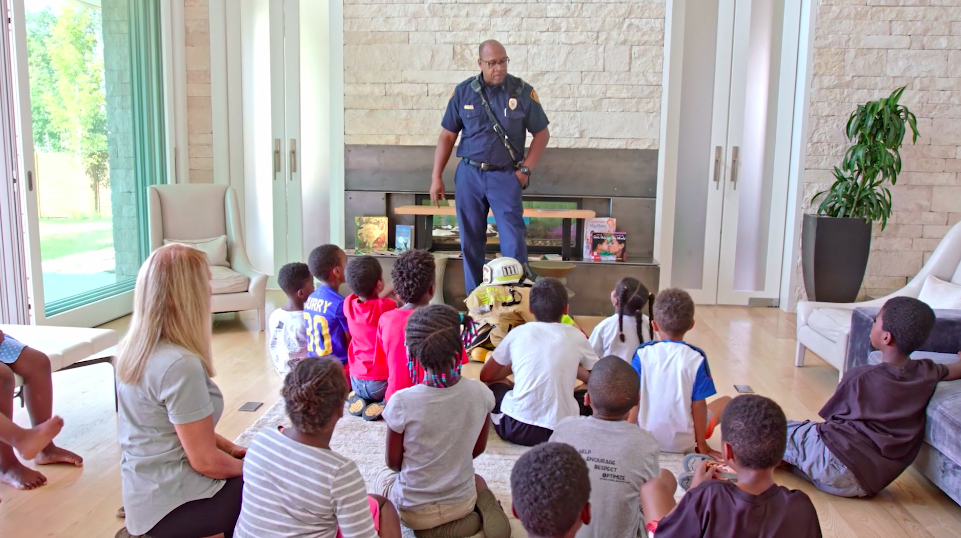 This film does an excellent job of exploring different sides of the issue by including interviews from scholarly professors, adoption centers, several different family who have adopted children of different races and adults who were once the children that grew up in a racially diverse home. The doc primarily follows Curtis Linton, a Mormon man living in the predominately white part of Utah whose world is changed when he decides to adopt two African American children. Mulholland follows Linton's story from the very beginning, as he engages in the arduous and challenging adoption process. After initially receiving praise for their decision, Linton and his wife begin to face the harsh reality of racism in their own community and country. They begin to see issues that never affected them in their white bubble through a different lens. This experience is a catalyst for them: after experiencing racial discrimination for the first time in their lives, Linton and his wife now host events for the Utah area for families who have taken part in transracial adoption. Their hopes for these events is to unite with families experiences similar discrimination, and allow fellow adoptees to meet each other.
Mulholland drives the central themes of his film home by keeping the spotlight on the families. The film describes how the majority of these families were uneducated and unprepared to deal with racism, and in doing so, shines a much-needed spotlight on how racism can impact any family, anywhere. As producer Curtis Linton remarks, "Love is not enough. There has to be knowledge. There has to be discovery."
"Black, White & Us" provides that knowledge -- and it's a film worth discovering.
---
Black White & Us is a documentary feature and runs 75 minutes and will be shown Sunday, January 27 at noon as part of Denton Black Film Festival. This screening will be shown at the Alamo Drafthouse, 3220 Town Center Trail. To purchase tickets at the online box office, click here.