In one of the most deliciously ironic ways possible, one thing we all have in common is a sense of not belonging. At some point in our lives, we may have felt out of place. I'm no different; and neither is the film "Alaska is a Drag."  What makes films like director Shaz Bennett's "Alaska is a Drag" such a gem is how it takes this universal idea and transforms it into something that can be celebrated. A tribute to going against the grain and flourishing from it, "Alaska is a Drag" is a multi-layered take on a complicated life in an uncomplicated town.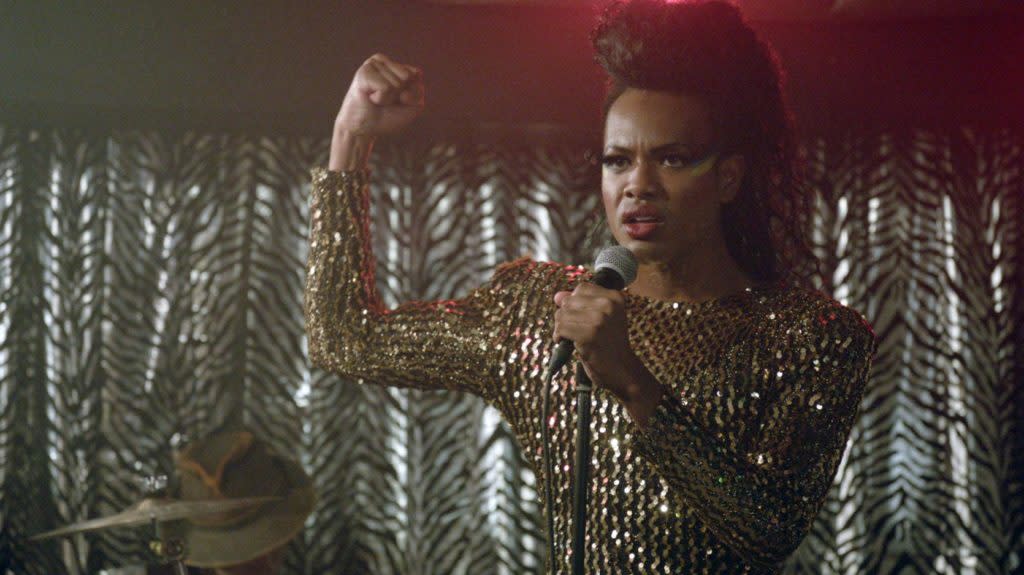 The film opens on an idea that a lot of us can relate to: being stuck in a town that we feel like we've never escaped. We're introduced to aspiring drag star Leo at the beginning of the film, where he's working at a literal dead-end job (cutting up the odds and ends of fish at a cannery). In most films, we'd relate and almost pity the character, but Leo immediately whisks you into a glowing fantasy that gives you more of a sense of faithful confidence than pity. We meet the supporting members of Leo's family that were responsible for bringing him to Alaska, keeping him alive in Alaska and trapping him in Alaska. The film boasts a wide spectrum of characters, including Leo's cancer-ridden sister, a deadbeat, disapproving dad, new and old work relationships, and a mom who left the picture a long time ago. In more ways than one, one of the greatest characters in the film is Alaska itself. Whether it's through the sweeping landscapes, gorgeous effects of the Arctic sky, or luscious greenery, the setting of the movie remains a pivotal actor in this film--and not always a positive one.
Leo truly represents the good in the world, and the good we see in ourselves. His love for his sister, pride in his sexuality, and confidence in himself is something to be admired, and that shines in the film in the most organic way possible. As Leo juggles chopping fish heads, gearing up for a boxing match and competing to become the next drag superstar of the state he wants to escape so badly, you find yourself in his corner every time.
Writer-director Shaz Bennett deserves applause for his creative flick and his unique take on life in Alaska. His film challenges the status quo in such a positive way that you can't help but applaud him and his characters. Bennett's diverse cast brings so many different perspectives to the table to the audience, and each character appears fully realized. Thought provoking films like these give viewers the chance to connect with even the most unlikely of heroes, and Bennett's deftly crafted tale shows that there is nothing odd about being the odd one out.
Despite the highs and cavernous lows, the film ends with hope for Leo. It's a comfort for our new favorite drag queen, and for anyone who feels lonely or stuck. Just like the Aurora Borealis that floats over the scenes in "Alaska is a Drag," the strong faith of a better tomorrow illuminates the darkness -- and points toward a brighter tomorrow.
---
Alaska is a Drag is a narrative feature and runs 88 minutes and will be shown Saturday, January 26 at 8:30 p.m. as part of Denton Black Film Festival. This screening will be shown at the Campus Theatre, 214 W. Hickory. To purchase tickets at the online box office, click here.