For Ahkeem is the true story of Daje Shelton, a high school junior in St. Louis, Missouri, who is kicked out of the public school system for fighting. Daje—known to her friends as Boonie—is placed in alternative school called the Innovative Concept Academy, an institution that will give her a last shot at earning her high school diploma. Daje faces many obstacles on the way as she navigates a first love, the loss of friends, and ultimately an unexpected pregnancy. One year into Daje's journey, Michael Brown is shot and killed in Ferguson just a few miles from where Daje lives—a solemn reminder of the dangers faced by many young black people.
The documentary was shot over two years and begins in early 2013. Thanks to social and economic factors, Daje's North St. Louis neighborhood has fallen into disrepair and danger over the last several decades. She speaks about friends that have been shot and killed, mentioning that she was once shot in the stomach. She also speaks about her hopes for escaping St. Louis, a goal that her mother also hopes she will achieve. But Daje finds it difficult to transcend her obstacles—she talks back to a teacher and receives in-school suspension; she cuts class to spend time with her boyfriend Antonio; she fails to study and complete her homework on time. Soon Daje finds herself sucked back into her old behaviors.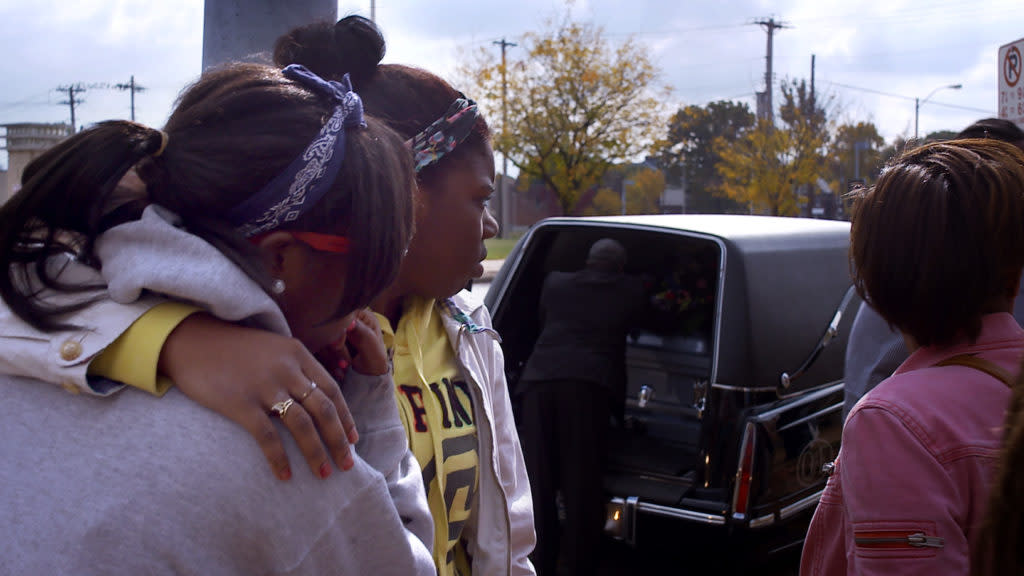 A still from "For Ahkeem" from the film's website
But when Daje learns that she is pregnant, the stakes for her and for Antonio get even higher. She recognizes that she and Antonio may have a difficult time keeping their child safe, especially once they learn that he is a boy. "A lot of my friends were black boys," Daje says. Those friends died at ages 15 and 16. Even Antonio expresses a fear of "dying young" to Daje. Daje decides that she must overcome her impediments for the sake of Ahkeem, who is born in November of 2014.
Although For Ahkeem is Daje's story, the film necessarily takes up the struggles facing young black men and women at large. Concepts such as the school-to-prison pipeline, scuffles with police, violence and crime, and teen pregnancy are threaded throughout the movie as the root causes of many of Daje's and her friends' problems. According to the film's website, Daje received her first school suspension in kindergarten "after accidentally spelling a curse word"—the first in a series of events that would permanently affect her life.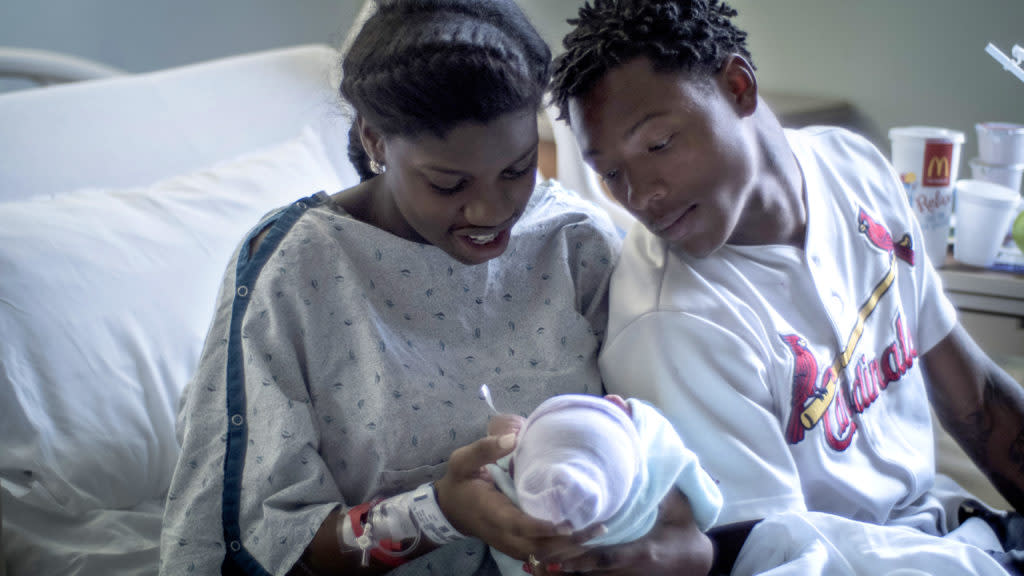 A still from "For Ahkeem" from the film's website
One of the film's underlying arguments is that these challenges often make success nearly impossible for poor or marginalized black youth. The film certainly makes this fact a difficult one to deny: in one scene, Antonio jumps in a car that he thinks belongs to a friend. A subsequent police stop results in car theft charges and arrests for all of the passengers, leaving Daje to care for Ahkeem by herself. When a mentor tries to enroll Antonio in a program that helps young fathers find jobs, Antonio learns that this felony charge has disqualified him. Still, Daje perseveres. At the beginning of her senior year, she learns that she must look after Ahkeem while passing 13 classes—more classes than anyone else at the Innovative Concept Academy. When considering every setback, the viewer comes to regard Daje as a kind of heroine.
According to the New York Times, For Ahkeem was conceived after directors Jeremy S. Levine and Landon Van Soest discovered an article about the Innovative Concept Academy in People Magazine. Levine and Van Soest are seasoned documentarians whose other works include Good Fortune, a film examining the dark side of aid efforts to Africa, and Walking the Line, which takes a look at issues of the U.S.-Mexico border. This latest effort would seem to align with their clear interest in contemporary social and political issues.
Although the filmmakers are clearly rooting for Daje, the film doesn't pull any punches, either. The film's subjects are captured at both their brightest and darkest moments, in times of joy and celebration as well as times of anger and desperation. For Ahkeem is often a somber story; Daje is filmed even as her mother temporarily kicks her out of the house for becoming pregnant, and is depicted tearfully kicking over city trash bins when she learns of Antonio's arrest. The film also includes footage of the protests leading up to (and following) the Ferguson decision. But there are many blissfully happy moments, too—the birth of the adorable Ahkeem, the tenacity of the love between Daje and Antonio, and Daje's ultimate triumph over her stumbling blocks.
In an age where discussions of race and the justice system are becoming more and more mainstream, For Ahkeem is a challenging but necessary film. Daje's story is uniquely uplifting and informative, and viewers will find themselves instantly invested in the lives of the film's subjects. Those who are interested in keeping up with Daje's ongoing journey can do so via the film's website.
---
For Ahkeem is a special invitational documentary and runs 90 minutes and will be shown Saturday, January 27 at 2:15 p.m. with short film Colour Me Pretty as part of Denton Black Film Festival. To purchase tickets at the online box office, click here.