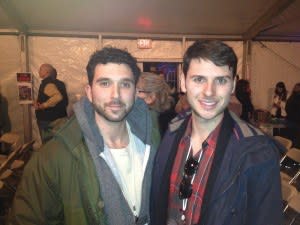 Ben Mallin, Producer and Justin Turcotte, Director, both from Vancouver, Canada.
One of the things I love about Thin Line is everyone rubbing shoulders with everyone.  Last night at the opening, I introduced myself to the fellow on my right.  Justin Turcotte shook my hand and asked if I was planning to see his film Thursday night.  Turns out, Justin is the Director of "Unleashed! A Dog Dancing Story."  Producer Ben Mallin was there, too.
Little did these fellows know, "Unleashed" was already in my Thin Line plan-of-action, and meeting them was  extra fun for that reason.
"How did you get into dog dancing?" I asked Justin.
He was thoughtful for a moment.  Ben leaned forward and offered, "It was kind of an accident."
An accident?  Tell me more, I thought.  And they did.
Some time ago, the guys met a lady who danced her dog.  Fans of the comedy movie "Best of Show" about obsessive show dog owners, they were ultra-intrigued as this lady described elaborate dog-dancing competitions that even included kite-flying.  They saw dog dancing first-hand and, once experienced for themselves, they knew they had to take dog dancing to the big screen, well documented, because who would believe it otherwise?
I have three dogs of my own.  They do all kinds of tricks for treats and love pets.  One even dances, kind of, if I hold the treat above her head and move it in a circle with the command to dance.  I'm quite sure this doc's dogs are on a whole different dancing level.
The Fine Arts Theater tonight at 8 pm.  "Unleashed:  A Dog Dancing Story."  This I've got to see!