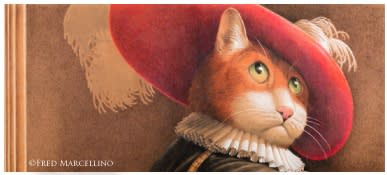 The Greater Denton Arts Council presents Dancing By The Light Of The Moon: The Art of Fred Marcellino.
Marcellino achieved early success as an illustrator and designer of record album covers, reflecting a diversity of musical and artistic styles. He began making his mark on the publishing world in the mid-1970s, and was soon regarded as the preeminent designer and illustrator of elegant, eye-catching book jackets. His subtly painted images created an alluring graphic identity for works by many prominent authors, including Tom Wolfe, Margaret Atwood and Anne Tyler. Simultaneously, his interest in the art of children's book began to emerge.
In the mid-1980s at the height of his success, Marcellino turned his attentions to children's book illustration, a dramatic but enjoyable departure for the artist. His first full-color picture book, Puss in Boots, was awarded a prestigious Caldecott Honor in 1990, and many award-winning classics followed. I, Crocodile, his first original tale, was a critical and popular success.
This exhibition was organized by the National Center for Children's Illustrated Literature, Abilene, TX.
Opening reception November 17, 2013, 2:00 - 4:00 pm. Jean Marcellino, Fred Marcellino's widow, will be in attendance and will give a gallery talk.
The exhibition is free and open to the public. Gallery hours are Tuesday through Sunday, 1:00 to 5:00 pm.
The Center for the Visual Arts is located at 400 E. Hickory Street, Denton, Texas, 76201. For more information, visit the Greater Denton Arts Council website at www.dentonarts.com.