It was an important year in the life of the Denton Convention & Visitors Bureau (CVB):  2008.  It was the year the CVB significantly raised the bar on the level of service group business clients should expect in Denton.  It was the year Dana Lodge earned her Certified Meeting Professional designation.  It was one of Denton's highest performing group business years ever on record to that date.  And all three milestones are related.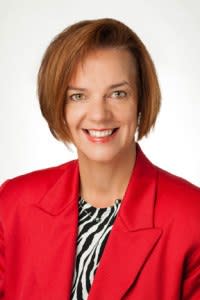 Denton CVB Director of Sales Dana Lodge is the central figure to connecting group business clients to excellent Denton experiences.  With more than 25 years of tourism-related sales experience under her belt, she joined the CVB staff in May, 2005.  She tackled her mission to attract and grow group business in Denton with enthusiasm.  And she immediately set about pursuing the highest credentials of her new field of focus:  Certified Meeting Professional (CMP).
The CMP was designed by the Convention Industry Council in 1985 as "The foremost certification of the meetings, conventions and exhibitions industry.  The CMP program recognizes individuals who have achieved the industry's highest standard of professionalism and proficiency."
Earning the CMP is no easy task.  Dana invested many personal hours in research as well as participation in professional study groups.  She also took advantage of industry educational offerings and volunteered in areas where her own experience was lacking.  Her discipline and perseverance paid off when she was awarded the coveted certification in 2008, a feat that immediately elevated her professional status among her peers and established her as a recognized leader in the Texas meetings industry.
Keeping the CMP is no easy task, either.  Every five years, CMPs must be recertified by exhibiting proof of continued leadership within the meetings landscape.  Dana has remained faithful in professional development, public speaking, and event planning and production and thus was recently awarded her Recertification Credentials.   Her work evolving the meetings and group business in Denton through production of the CVB's annual Planner Zone Expo, liaison between group and meeting planners and the Denton experience, knowledge and promotion of Denton venues and product, and finesse in building customized event specs for every individual client all combine to keep her at the top in her field.  And it keeps Denton at the top of our game with group business numbers continuing the upward trends begun when Dana joined the CVB team eight years ago.
Congratulations, Dana Lodge!  Denton is proud of you!