Beginning tomorrow, Quakertown Park will be a-buzz. Stages and vendor tents will go up. The normal number of trash and recycle receptacles will multiply many times over. Fencing, signs, tables and chairs will be placed. It's all preparation for one of Denton's biggest weekends of the year when an estimated 225,000 people will turn out for the Denton Arts & Jazz Fest.
Among the throng will be more than 3,000 entertainers, some 500 vendors, and many, many visitors. People across North Texas and far beyond look forward to Arts & Jazz Fest as much as we do. This is a premier weekend for Denton, one where we shine. And of the visitors wooed to town by the festival, some will discover Denton for the very first time.
Last year, the Discover Denton Welcome Center (DDWC) was not quite open. We held a preview weekend during Arts & Jazz Fest where visitors and locals alike could check out the progress. The DDWC is now almost a year old and still averaging about 6,000 visitors per month. The store is thriving, DentonRadio.com is settled in and our Dentoning experts are old hats at guiding visitors and community newbies to fully discover Denton.
This Arts & Jazz weekend, we'll be staffed up for larger crowds than usual. For visitors in the Welcome Center who haven't made it to the festival yet or didn't include the festivities in their itineraries, live Arts & Jazz content will stream throughout the weekend on the DDWC's giant video wall. How better to help people plug in than to let show them virtually what they're missing? The DDWC team aims to bolster the connection between the festival, the city and our original, independent sense of place.
Speaking of virtual visiting, CVB staff is still busy showing off our wildly successful virtual reality (VR) tours of Denton. They were created for our exhibit at SXSW Interactive back in March. Upon our return from SXSW, we held a public event at Agua Dulce restaurant patio where locals could see for themselves what the SXSW audience got to experience. We literally had lines of people show up to give it a try. We used the VR tours again in our exhibit at the Texas Travel Fair last week. They are a hit everywhere we go.
VR is the coolest new way to see Denton from really unique perspectives while trying out the technology at the same time. Demand within Denton to share the experiences is still high, so we are bringing the experiences to Arts & Jazz Fest for fun while connecting the festival to Denton's year-round appeal as a destination at the same time.
Like we do every year, CVB staff not working at the DDWC will be in our Main Stage field booth at the Arts & Jazz Fest. We'll have the VR experiences available in our booth along with our marble game that helps Arts & Jazz Fest officials evaluate festival out-of-town attendance and the festival's economic impact on the city. Everyone who stops by the booth and drops a marble receives a free pair of Discover Denton sunglasses.
It's long been tradition that festival-goers explore downtown throughout the weekend. The CVB's ultimate mission is always the same: ensuring a positive visitor experience. Our team on-site at the festival is comprised of Dentoning experts, an extension of the DDWC. Between the two locations, we shape stories that Denton visitors will tell long into the future.
When thousands of people converge in one place at one time, parking is at a premium. There are solutions for avoiding traffic and parking drama. We are encouraging regional out-of-towners to consider riding the A-train to Denton on Friday and Saturday (a great option for Dentonites, too). The A-train parking lot at MedPark is huge and empty of commuters during weekends. The A-train doesn't run on Sundays, but for Friday and Saturday, this is an easy park-and-ride that delivers passengers downtown just two blocks from Quakertown Park.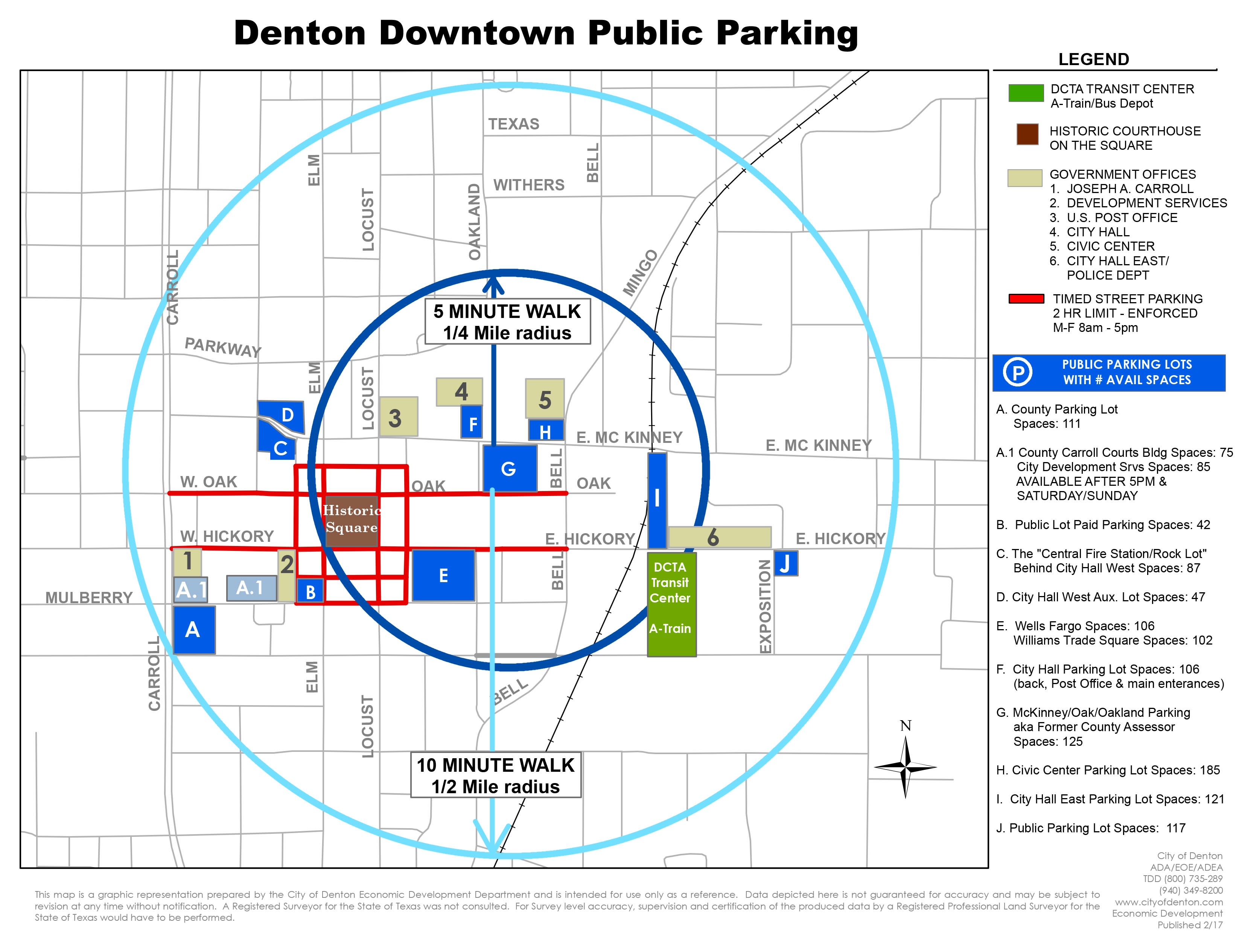 There are also two new city parking lots since last year. One, accessible off Mulberry Street, is behind the City of Denton building on Hickory Street, formerly DATCU. The other is accessible off McKinney and Cedar Streets, behind the Labb Sports Bar and the former City Hall West building. Download a .pdf of the public parking lots here.
As our community has proven time and again, you are our best ambassadors. Spread the word about the A-train and our many Denton hotel options. And sign up at 35express.org to receive text alerts about freeway traffic conditions.
Check out dentonjazzfest.com for this weekend's schedule. Then come see us at the festival and at the DDWC for everything you need to know about Dentoning at its finest during one of my favorite weekends of the entire year!