Denton: circa 1976. City population was 45,000; Denton County's 110,000. Downtown Denton was quiet and sleepy. Parking wasn't a problem and traffic jams were something that happened in "big cities."
In 1976, Denton had three hotels, one high school, two universities half the size they are today, and miles of green space between the city limits and anywhere else. The first of the mega-horse farms was just settling into the area. And "Dynamic Denton," the Denton Chamber's aggressive, road-show-style, first-ever foray into destination marketing a decade prior, was waning
It was this Denton that welcomed a fresh-faced and feisty young Baylor grad named Chuck Carpenter.
In their first meeting of that same year, the 1976 City Council made a destiny-determining decision for Denton.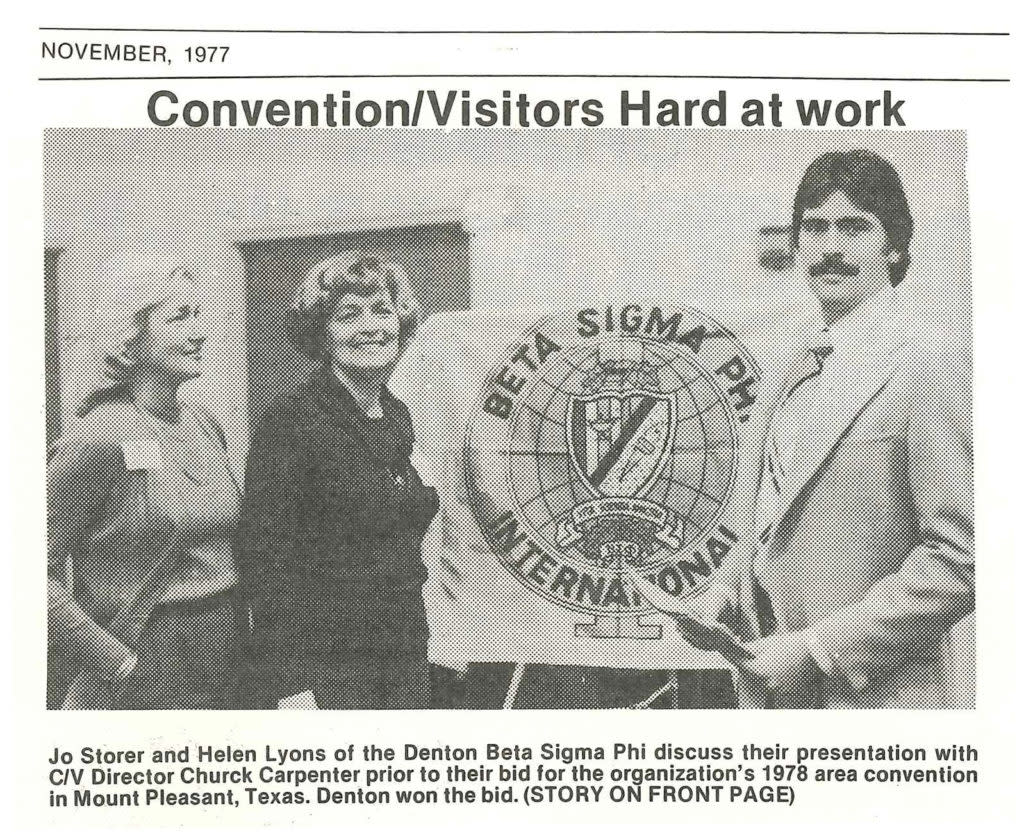 Chuck Carpenter (right) shown in the Dynamics (Denton Chamber of Commerce's newsletter) in 1977. Carpenter will retire December 31, 2018 after more than 40 years of service to the Chamber.
"This agreement made and entered into this 6th day of January, 1976, by and between the City of Denton, Texas, a Municipal Corporation, hereinafter called "City", and the Denton Chamber of Commerce, a non-profit corporation chartered under the Laws of the State of Texas, hereinafter called "Chamber"…
"Whereas, City has recently passed an ordinance providing for the assessment and collection of a hotel occupancy tax in the City of Denton…
"Whereas, the Chamber is well equipped to advertise and conduct solicitation programs to acquaint potential users with public meeting and convention facilities and to promote tourism and advertise the City of Denton…"
These are the opening whereases to the nearly 43-year-old contract that initially brought Chuck and Denton together. The City of Denton contracted with the Chamber to market Denton as a destination, and Chuck was the man for the job of establishing the Denton Convention & Visitors Bureau (CVB).
Top of the new kid's agenda was to roll out a fresh campaign. "Do it in Denton" was the tagline touting that whatever it is you do, you can do it in Denton. Chuck managed promotional initiatives designed to enhance the city's economic growth through tourism. While Denton's attraction base was limited, Chamber and city leaders were confident that visitors would strengthen businesses and their success would attract new business, and so on. Tourism has and always will be the front door of economic development.
Chuck's tourism plan was ambitious, especially given the limited resources with which he had to work. Hotel Occupancy Tax collections that first year were only about $4,000. Chuck dove in, creating unique ways to tell the Denton story and launching Denton into the emerging Texas tourism arena.
Chuck's move to the Chamber's executive seat in 1982 bolstered the CVB. His experience in the CVB role is key to the continuous, uninterrupted sustainability of the City's contract for all these years. In his 36-year tenure as Chamber President, I am only the fifth CVB Director. Our Chamber's managing team has been together for more than a decade, an amazing and unusual testament to his leadership and a major contributor to the development of the Denton we know today.
It's been 43 years since young Chuck's arrival on the Denton scene. Our city population is nearly 138,000 and the county's is pushing one million. Downtown Denton is revitalized and is our premier destination for thousands of visitors. Parking is a problem because business is booming, and traffic jams are something we deal with because we are the big city. Denton has 26 hotels, a convention center, four high schools, two universities with a combined 50,000 students, and more than 300 horse farms filling miles of what green space remains outside the city limits.
Hotel Occupancy Tax receipts are in the millions of dollars now. The CVB is strong, respected and influential in Texas tourism and beyond. Original Independent Denton is our brand, but the message is the same as that long ago "Do it in Denton" promotion: This is a place where people can be themselves, our most defining characteristic since Denton's infancy in the 1800s.
Chuck announced last week that he is retiring this December 31. Denton grew up on his watch, tripling in size and scope. His fingerprint is evident in our healthy business community, innovative cooperative partnerships, strong university ties and the vibrant culture that defines our Denton life for citizens and visitors alike.
My favorite of the marks Chuck will leave on Denton is a robust tourism industry. Denton's story is one of adventure, risks and success. Our Chamber and CVB power-punch is well-known, admired and imitated. Our CVB holds rock star status among our peers, and all because a bold young dreamer had the courage and tenacity to believe back then that we could be the Denton we are today.