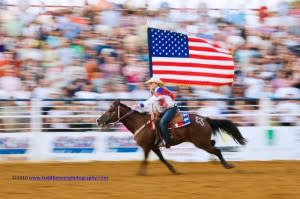 The North Texas State Fair and Rodeo (NTSF) has had a long history and tradition of showcasing the cowboy way of life.  Now in its 83rd year the organizers strive to offer everyone this unique western entertainment and family fun.
The fair is one of the largest events in Denton County, attracting about 135,000 fans from the northern Texas and southern Oklahoma areas.  This is the third year NTSF has been awarded the Best Overall Fair at the Texas Association of Fairs and Events Convention (TAF&E) beating out competitors that averaged between 400-450,000 attendees.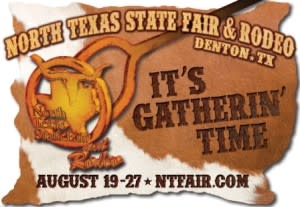 This year's North Texas State Fair and Rodeo will take place August 19 – 27.  While there are many activities that lead up to the opening day of NTSF, the first evening includes the Peterbilt Kid's Tractor Pull, Great White Shark Experience, Spirit of the Horse, the PRCA Rodeo in the Miller Lite Rodeo Arena, the Brison Bursey Band on the "Bud Light Stage", and the Casey Donahew Band on the "Budweiser Stage".  And that's just the first day! Just don't lose sight that there are NINE days of carnival fun, live concerts, rodeos, contests, shopping, and, of course, food!
There is a fantastic music line-up this year! Performers include Casey Donahew Band, Jack Ingram, Emilio Navaira, Pauline Reese, Dale Watson, Cody Canada and the Departed, Josh Abbott Band, Tracy Lawrence, and Justin McBride.  But many fans are eagerly awaiting the announcement of "the biggest name in Texas Red Dirt Music" which won't be publicized until August 5th.
For those zealous cowboys and cowgirls, there are 3 exciting nights of the PRCA Rodeo, an Invitational Ranch Rodeo, the 21 & Under Rodeo, and the ever popular Miller Lite Bull Blow-Out.
Guests are the inspiration that give the fair character, explains Glenn Carlton, Executive Director of the NTSF, "…the tone and inspiration comes from our volunteers, sponsors, and participates. This past Fair's award winning theme was inspired by a photo taken by a parent. The photo featured 7 young cowboys, in their boots, chaps, and hats.  They really looked like a miniature old west gang!!  But mostly, it was their mischievous smiles and joy, on their faces, just because they were at the North Texas State Fair and Rodeo!"
Make sure you "gather" in Denton and add your personal touch to this year's North Texas State Fair and Rodeo!