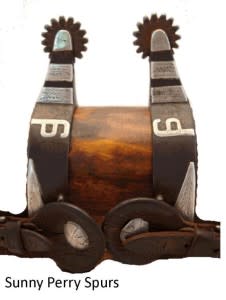 Western-themed collectibles and décor are in – whether you're a real, live cowboy or cowgirl or not. So, where do you go to find the "best of the west?" The Western Heritage Gallery(WHG), home to the finest western Americana collection today and one of Denton's Best Kept Secrets. Open 363 days a year and online, it is the premier destination for collectors, dealers, and designers alike.
With over 80 dealers, the WHG not only showcases collector items, Western and Native Indian Americana décor and artwork that spans centuries; it is also the host location to the upcoming Annual Cowboy Gathering & Trade Show, September 9-11, 2011.
Western dealers, makers and artists from across the country will be on hand at this trade show to display their work and collections for sale.
If you're into more of the "high bidder" action, be on the lookout for some first class contemporary work at the The Legends of Texas Auction.   Pieces of work by Jerry Cates, R F Ford, Earlon Shirley and Eduardo Grijalva will be displayed for auction along with works by more than 30 of today's best contemporary makers.
The auction will be held on Saturday evening, September 10 at 5:30 pm and, according to the event planners, it will likely be the best western auction Texas has ever seen. While the auction includes jewelry, art, cowgirl memorabilia, furniture, western collectibles and Native American items, here are just a sampling of the exceptional items to be on the lookout for:
A historic pair of Adolph Bayers spurs made for two-time World Champion, Sonny Perry. Sonny rode Cutter Bill and Senor George, both American Quarter Horse Association Hall of Fame inductees, owned by the late Rex Cauble.
A special pair of spurs by legend Billy Klapper, a reputable contemporary spur maker. Klapper, a much sought after spur maker has a several year wait list but made a special pair of spurs specifically for this auction.
A rare fully floral-tooled saddle heavily silvered with over 30 pieces of custom sterling silver by Dale Harwood. Harwood is a Founder of the Traditional Cowboy Arts Association, and possibly the world's most sought after saddle maker. His work has been known to sell for over $90,000.
A beautifully hand-tooled duplicate saddle of the 1870's style Mexican Saddles made for Ron Howard's 2003 film "The Missing", starring Tommy Lee Jones. Created by Clint Mortenson, these saddles were made exclusively for the film by Mortenson Saddlery. The duplicate is adorned with hand-made Sterling Conchos and trim and is accompanied by Apache saddle bags hand made from buffalo hide by Emmy winning costume designer, Cathy Smith and a custom monogrammed stand. saddle bags were hand-made from buffalo hide by Emmy-winning costume designer, Cathy Smith. Custom monogrammed stand included. saddle bags were hand-made from buffalo hide by Emmy-winning costume designer, Cathy Smith. Custom monogrammed stand included.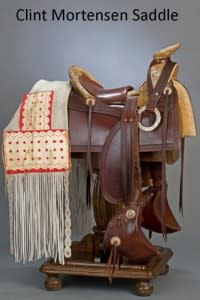 Cowboys don't just muster to show off beautiful artwork work. The gathering will also include The International Guild of Bit & Spur Makers 3rd Annual Conference.  The conference gives the guild an opportunity to network with international bit and spur makers and educate fellow artists, collectors, and the public.  The conference also gives the artists an opportunity to share ideas, methods, and techniques with fellow artists.
"We look forward to making Denton a destination for collectors, designers and all who are interested in Western Americana or just want well-made, quality merchandise." Owner Stephen Plyler went on to say, "We are a different breed of Antique Mall. We want to bring Western Americana to North Texas in a new way. Owner Jeff Trammel added that "Our selection of Western Antiques and Art is second to none as we have dealers from Connecticut to California who exhibit in our Denton location."
For more information about the Western Heritage Gallery and upcoming events visitwww.thewesternheritagegallery.com.