[cols][six-col]
What: Contemplating Limits, an art exhibition from the University of North Texas College of Visual Arts and Design
When: Exhibition on display Aug. 28 (Tuesday) – Sept. 22 (Saturday)
Opening reception: 5 to 7 p.m. Aug. 30 (Thursday)
Gallery talk with artists Austin Ballard, Kirsten Macy and Gary Passanise: 6 p.m. Aug. 30
Gallery talk with artist Robin Dru Germany: 10 a.m. Sept. 20 (Thursday)
Where: UNT Art Gallery in the UNT Art Building, one block west of Mulberry and Welch streets
Cost: Free
Contact: www.gallery.unt.edu or 940-565-4316 [/six-col][six-col]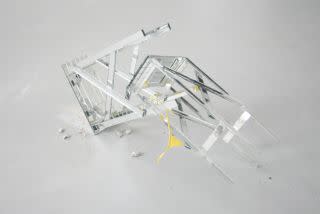 [/six-col][/cols]
DENTON (UNT), Texas --Contemplating Limits, an exhibition featuring four artists' works conveying ideas about structure, will be on display beginning Aug. 28 (Tuesday) in the University of North Texas Art Gallery — part of the UNT College of Visual Arts and Design.
"The idea for Contemplating Limits grew from a studio visit with artist Gary Passanise, who described the limitations of the painting structure and surface — a circumstance long considered by artists," said Tracee Robertson, director of the UNT Art Galleries and curator of the exhibition. "In a sense, Passanise makes this the subject of his paintings. After our visit, I thought of structure as the expectations we have about physical forms and cultural experiences. The works in this show invite viewers to meditate on imagery and narrative that provide alternative views to what initially may be imagined."
The free exhibition will be on display through Sept. 22 (Saturday) in the UNT Art Gallery in the UNT Art Building, one block west of Mulberry and Welch streets. An opening reception will take place from 5 to 7 p.m. Aug. 30 (Thursday), and a gallery talk with artists Austin Ballard, Kirsten Macy and Gary Passanise will be held at 6 p.m. Aug. 30. A gallery talk with artist Robin Dru Germany is set for 10 a.m. Sept. 20 (Thursday). Visit www.gallery.unt.edu or call 940-565-4316 for more information.
ARTISTS
A recent graduate of the Rhode Island School of Design, Austin Ballard's (North Carolina) small sculptural works in this exhibition employ everyday materials, such as cardboard, mirrored glass and concrete, and appear as models for much larger scenes. Ballard's sites of turned-over scaffolds or propped-up walls seem to explore a kind of futility in structure, in its purpose or its expectation of longevity. Small-scale structures, such as the supports for a pier or a sports arena, lay collapsed and abandoned. Colorful pennants that convey carnival or festival appear crushed, tangled in debris and suggestive of tragedy or simply of neglect and time passing.
Robin Dru Germany (Texas) makes photographic work that "is an inquiry into the nature of being human." Germany's images seem to manipulate imagery from nature to refer to humanness, to the body's veins, skins and entrails -- and their dysfunction -- or to the way the eye sees imperfectly or to human imagination and longing for processes and phenomenon that are not immediately available to us. In this series of photographs, Germany explores the personality of bodies of water and our relationship to them both physically in the cast-off objects we contribute, which float or wash to shore, and emotionally in our conception of oceans and rivers as mysterious and dangerous.
Kirsten Macy (California and Texas) makes paintings and sculptures that impart a sense of life that has been vacated and is decaying, and like Ballard's sculptures, test the limits of human histories. What we create and eventually leave behind -- architecture, stories, people -- are reduced in her recent paintings to vast, blank horizons disrupted by misplaced objects, lines and explosions. Macy's visual style draws on aesthetics of video games and digital animation, lending an otherworldly sense of the future.
Gary Passanise (Missouri) has been painting for more than 30 years and often makes works in large scale. His current abstract paintings question the very structure of painting, which for hundreds of years has been a rectangular, flat surface. Artists before Passanise have struggled with this limitation, changing the shape of canvases or repeating the flat edge of the canvas across its surface, among other explorations. Passanise uses the canvas structure -- its rectangular shape -- as the subject in his abstract works, overlapping rectangles to build new, fictional forms that take on a life of their own in our imaginations. This effect suggests a power to communicate despite the limits or traditions of form.
SPONSORS
This exhibition is made possible by the UNT Fine Arts Series, Goodmor Construction Inc., and Karen SG Milnes Design, with additional support from the UNT College of Visual Arts and Design.