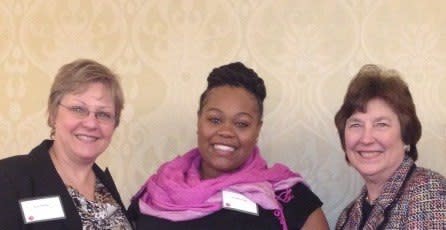 Kim Phillips, E'Lisha, and Camille Keith, retired Southwest Airlines Vice President and Chair of the DFWATC Scholarship Committee.
We are always proud of our Denton universities.  Their students are, after all, the bulk of the creative, intelligent vibe that is the source of Denton: Original Independent.  This is our brand, which conveys the essence of who we are as a city, what sets us apart from Anytown, USA.  This is why we must boast about one stellar student who won two scholarships in the travel industry, E'Lisha Victoria Fogle.
E'Lisha is a UNT masters degree student.  She earned her Bachelors of Science degree in Hospitality Management from Virginia State University in 2010 and will graduate her Masters Degree in International Sustainable Tourism from the University of North Texas in May, 2015.  E'Lisha is a Dean's List student with numerous academic accolades and scholastic scholarships under her belt.  She will leave Denton this May for a one-year sustainable tourism internship with UNT in Cost Rica, after which she will graduate.
E'Lisha was celebrated recently as the $2,500 scholarship award winner of the Dallas Fort Worth Area Tourism Council (DFWATC) 2014 Tag Taggart Scholarship.  Denton CVB's Kim Phillips, Vice President, and Dana Lodge, Director of Sales were in attendance at the DFWATC Annual Membership meeting when the news was announced.  E'Lisha is the first UNT student recipient of this scholarship, begun in honor of Texas tourism icon Tag Taggart (of Traders Village) more than 10 years ago. Mr. Taggart was instrumental in the development of the tourism industry in the Dallas/Fort Worth area and across the state of Texas for more than 30 years.
"E'Lisha put Denton, and more specifically, the UNT School of Hospitality, Merchandising and Tourism, on the Texas tourism radar," said Kim Phillips.  UNT has one of the greatest hospitality programs in the state, and now everyone will know it.  We are honored that Denton and UNT are in the limelight thanks to E'Lisha's diligence.  It's past time that we are recognized for our contribution to leadership in Texas tourism."
The purpose of the DFWATC scholarship is to support students from the Dallas/Fort Worth region who intend to study the areas of tourism, travel and hospitality, or who are already in the field continuing their education, in hopes that the recipient will become a future leader in the tourism industry.  No doubt, E'Lisha will be one of these leaders.  She is passionate about tourism and is dedicated to investing her future career in its sustainability from every aspect.
E'Lisha is a vibrant, altruistic individual.  Her fervor is well recognized, even on the national level.  She also achieved the "Tourism Cares Scholarship" from the National Tourism Association (NTA), which underwrote her attendance at the NTA International Marketplace in February.  As providence would have it, the Denton CVB's Dana Lodge was one of E'Lisha's mentors in the marketplace.
"E'Lisha sat in on several of my appointments with international tour operators," Dana said.  "She is bright and friendly, her scholarship status a definitive addition to Denton's tourism awareness and professionalism in front of such an astute audience."
E'Lisha, you make us proud!  Congratulations!  And a shout out to UNT for delivering such acclaimed students ready to become our next generation of tourism leaders.