Update: Originally published Dec 2, 2013. 
Christmas is here.  You know that smell the heater makes the first time it comes on for the season?  That's one of the smells that tell.  Other signals to the senses are pine and spruce, cinnamon and cloves, chimney smoke, pumpkin bread, roasted pecans, and wassail.
Wassail is one of my favorite holiday traditions.  I love simple spiced cider, often called Wassail in American culture; but, I am crazy about the classic mulled wine libation, the centuries old original Wassail.
"Here we come a-wassailing Among the leaves so green; Here we come a-wand'ring So fair to be seen. Love and joy come to you, And to you your wassail too; And God bless you and send you a happy New Year."
This familiar Christmas song is more than 1,000 years old.  Being a wordsmith of sorts, I was intrigued by the fact that wassail is used as both a verb and noun within the carol's verses.  Since Wassail Fest is this coming Friday night, December 6, around the Denton square, a bit of research seemed in order for truly appreciating the custom.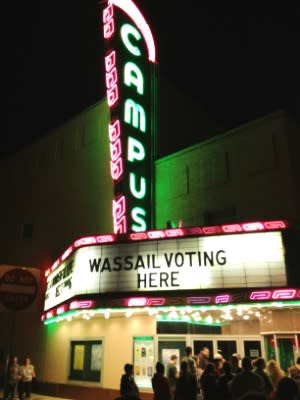 Wassail is a word derived from merry, ancient England.  Its first use was as a greeting meaning "be in good health."  It evolved into a looser salutation (History.com actually calls it a drinking formula) used much like a modern-day toast, sharing a drink to one another's health and good fortune."  "Wassail!" "Salute!"  "Cheers!"  They all exclaim the same, warm, happy gratitude for camaraderie.  Wassailing, then, is celebrating, drinking and toasting together.
The noun-use of wassail refers to the drink by the same name.  The first wassail was wine spiced with ginger, cinnamon, nutmeg, and cloves.  The spices were "mulled" into the wine over a slow fire.  This adapted recipe was originally called Hypocras, crafted by the Romans millennia ago as an exclusive drink for wealthy people, its price tag beyond the means of most because the wine and spices had to be imported.  Over time, however, recipes morphed to employ more native, affordable ingredients such as using fine ale rather than imported wine as the punch's base.
"Let every man take off his hat And shout out to th'old apple tree Old apple tree we wassail thee And hoping thou will bear."
This ditty is an old tavern tune from Medieval times showing yet another application for wassailing.  History.com says farmers "wassailed" their crops and animals to encourage fertility.  It doesn't sound very Christmasy, but the folks would pack up the wassail bowl, head out to the barn and toast the oxen, drinking to their health and virility.
Who knew Wassail had such a rich history?
The Denton Main Street Association (DMSA) brought the Wassail tradition to Denton a mere 15 years ago but many of the more than 25 top-secret family recipes competing for Wassail King or Queen span generations.
The DMSA created Wassail Fest to compliment the well-established Holiday Lighting Festival, our community's uniquely Denton Christmas kick-off.  Think Norman Rockwall Christmas calendar or 1940 era Saturday Evening Post cover and that's downtown Denton during the Holiday Lighting Festival.  Like the citizens of Whoville, we gather in Denton's living room, around our giant Christmas tree on the Courthouse lawn.  We bundle up, huddle together and sing, waiting for the magic moment when the tree lights up in holiday splendor.
All evening long, we greet one another, shop, enjoy holiday entertainment, all the while sipping Wassail.  Wassail Fest may be the most anticipated contest in Denton's year.  Merchants all over downtown lure guests into their shops with Wassail flavors floating on the air and then invite them to sample their versions of the recipe in hopes for a vote.  Someone will be crowned top Wassail concoctor, and we the people get to choose that someone.
I love Christmas.  I go to Holiday Lighting every year to embrace the Christmas spirit.  Ah, but the wassail.  I confess it is my personal favorite aspect of the evening and the season, for that matter.  I try everyone's!  In my opinion, the Christmas spirit is best absorbed through all the senses, and taste is the most efficient way of filling up.
The Campus Theatre is Wassail ballot headquarters.  So after tasting it all, I cast my ballot in the giant Wassail, gift-wrapped present.  That's my first act of Christmas spirit.  Somebody is going to win, so I feel responsible to help make sure the King or Queen really possesses the best recipe.  And then I cheer, "Wassail!"
Holiday Lighting Festival on the Square and Wassail Fest are FREE family friendly events.
Holiday Lighting Festival:
Friday December 5, 5:30-9:30 p.m.
Wassail Fest:
Friday December 5, 5:30-8:00 p.m. Saturday December 6, 2:00-6:00 p.m.
Click here for complete list of 2014 Wassail outlets.