Yogurt Fusion! A couple weeks ago, if you would have mentioned this place I wouldn't have had any idea of where it is or what they were about, now I just want to tell every coffee/ yogurt lover I know about it.  A small group of people were invited to try their new coffees and to hear about how they are wanting to bring more good brews into their funky, light, homey world.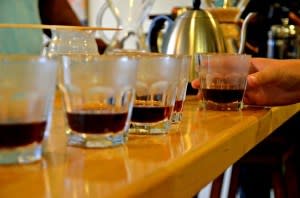 The shop is owned by John Punch, one of the few people around who is a Denton native. His great-grandmother was one of the original settlers of Denton, and he also has a relative who worked as a house mother in Bruce Hall (creepy), on the UNT campus. He has traveled to 101 coffee shops around the world, and knows so much about what he is doing. You can see how much he loves his job, and how much he loves GOOD coffee. He spoke to us about how he wants to build a sense of community through his work, and from what I can see he already has. There were people coming in, hugging him and they were all getting excited about each other, it was so cool.
Yogurt Fusion is a primarily frozen yogurt store, I don't think it's going to stay that way for much longer though. Coffee is something that they have studied and learned. Not only did they show us 4 different types of coffees from around the world, they showed us three different ways to brew coffee. We went through a cycle of smelling the coffee, watching them brew the coffee, to finally tasting the black coffee. The first time we went through this cycle, I was not excited about drinking it black. But I did, and it just goes to show how the quality of coffee can make a difference. It was delicious. I'm not saying that you can only get black coffee here, because you can add cream and sugar if you want. But for this "activity", it was helpful to drink it black. They do also have an espresso menu, so if you want to go for that you can!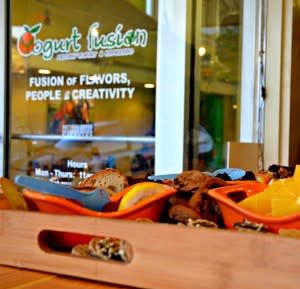 This place would be amazing for studying, hanging out with friends, or even your parents when they come to visit. The vibe was fun and relaxed, they also have good music. On Saturday nights they have live jazz music, and in the past they have had a quartet that sang outside on the side walk. I would definitely go back to this place for the environment and the amazing coffee…also…free WiFi. You can't really go wrong with that combination of things, can you?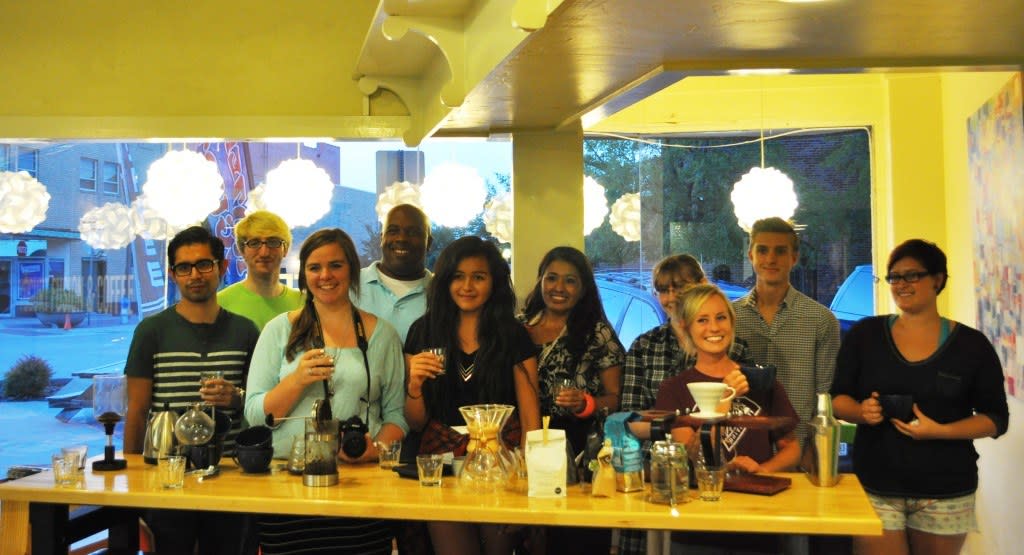 This lovely group shot was taken by Narciso Tovar of Big Noise Communications.