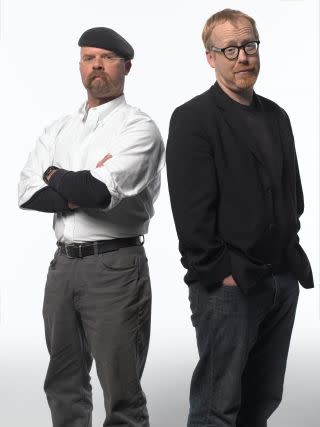 Adam Savage and Jamie Hyneman, co-hosts of MythBusters, will speak to students at the University of North Texas Sept. 24 as part of UNT's Distinguished Lecture Series.
Savage and Hyneman will speak at 7 p.m. Sept. 24 in the UNT Coliseum, located at 600 Avenue D, at the southeast corner of North Texas Boulevard and Highland Street. The event includes a moderated interview, audience Q&A and videos. No demonstrations will be performed and no myths will be busted on stage.
Hyneman has more than 25 years of experience in the special effects industry, and aside from co-hosting MythBusters has had his hand in producing effects for more than 800 commercials, dozens of feature films and hundreds of prototypes.
Savage began working in the film industry in the '90s in behind-the-scenes roles. His ability to solve difficult set problems made him well known in the special effects industry, and he went on to work on popular commercials and movies including "Star Wars" episodes 1 and 2, "The Mummy" and "Terminator 3". Hyneman approached Savage in 2002 to join him in co-hosting MythBusters.
MythBusters is among the Discovery Channel network's highest rated shows. Its 160-and-counting episode hours have tackled more than 750 myths and performed nearly 2,500 experiments.
UNT students can submit suggestions for Distinguished Lecture Series speakers online. Savage and Hyneman have been the most popular recent suggestion from UNT students.
The Distinguished Lecture Series is sponsored by UNT's Division of Student Affairs. Previous speakers include President George W. Bush, Robert M. Gates, Robert F. Kennedy Jr., John Legend, Bill Nye, Suze Orman and Vicente Fox. For more information contact Assistant Director of Student Affairs Administration Blake Rexroat at 940-565-2617.
Tickets can be purchased at the UNT Union Information Desk or by calling 940-565-3805. Students receive one free ticket with Student I.D. and can purchase up to four guest tickets for $15. Faculty, staff and alumni tickets are $20, and general public tickets are $25. Floor seating for faculty, staff and alumni is $30 and $40 for the general public.
For more information on UNT visit www.unt.edu/news.