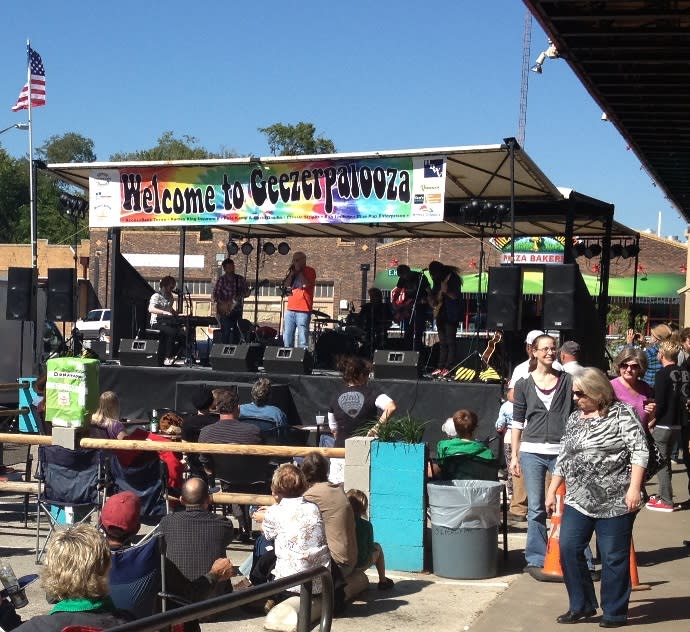 The sound of live music radiates from downtown Denton on a perfect fall afternoon. On stage, band members croon familiar tunes strumming guitars lure passersby to stop for a listen. A crowd gathers around the stage, friends and family huddled together to catch the show. Music festivals are not uncommon to the Denton scene, but there is something different about this one. The genre of music at this unique event hails back to the '60s and '70s, complete with tie-dye shirts and laid-back attitudes.
The second-annual Geezerpalooza is gearing up and ready to get things rockin' and rollin'. This year's festival will be held on Sunday, October 19th from 1 to 8 p.m. on the corner of Hickory and Industrial Streets. Tribute bands on this year's lineup include:
1:00 p.m. Classic Rock 2:30 p.m. Queen for a Day – Queen 4:00 p.m. Allmost Bros. Band – Allman Bros. 5:30 p.m. Bar Band – The Band 7:00 Dark Side of Oz – Pink Floyd DentonROCK will play intermittently between band sets.
Geezerpalooza will be free and open to Classic Rock lovers of all ages.
For more details, visit the Geezerpalooza Facebook page.
Denton is a city known for music. Although Denton already has an outstanding variety in its live music scene, Geezerpalooza adds another flavor of musical flair to downtown Denton. See for yourself on October 19th for some Dentoning you won't soon forget. See you there!